PUBLISHED: 21 June 2018
Corporate Water Stewardship: a crucial part of global water security
By Brie Nelson and Edwin Piñero
Commercial and Industrial Water Use and Water Related Risks
Companies that make up the industrial sector and commercial sectors play a significant role in water use. In Alberta, approximately 38% of water allocations are for commercial and industrial activities.1 This number excludes companies that receive their water from municipalities and from irrigation districts. Across Canada, industrial activities withdrew 30.2 billion m3 of water in 2013, approximately 85% of this was for thermal electric generation.2 Almost all of the water withdrawn for these industrial activities was returned to the environment, as seen below in Figure 1.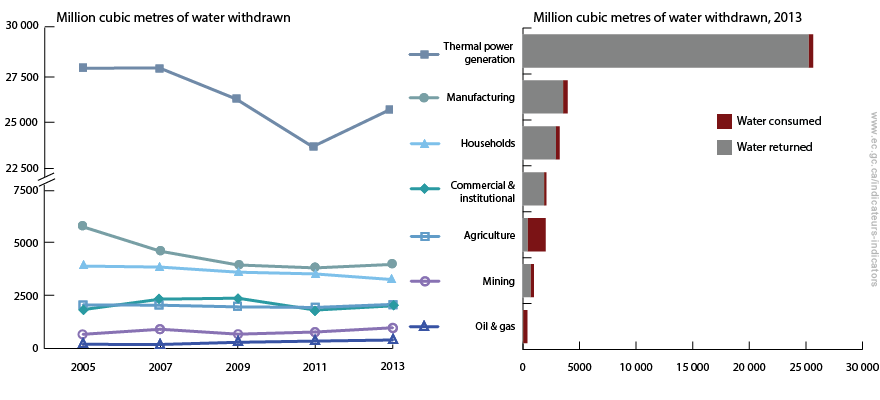 Not only do companies make up a significant portion of water demand, they are also significantly impacted by water insecurity in terms of investment, profits, and operations. According to the CDP's 2016 Global Water Report, $14 billion USD worth of water-related financial impacts were reported by companies.3 This was an enormous increase from the previous year when US$2.6 billion USD in impacts were reported.
In 2017, 3,770 identified water risks were reported to the CDP by participating businesses.4 Business risks related to water include limited water availability, changing water quality and water temperature, public licence to operate, floods, droughts, and price per m3 of water. Due to an increase in awareness of these risks, companies around the world are analyzing and taking action to mitigate their vulnerability. In addition, responsible water use is becoming increasingly important for companies, particularly manufacturing companies, to maintain social licence and customer support.
Water Stewardship
Many companies are committed to reducing their water footprint or improving water efficiency, however reducing the total water used by the company is only a small part of water stewardship and addressing water risks to the company. By definition, water stewardship involves managing water withdrawals and releases to ensure sufficient water quantity and quality for all other users, as well as the environment.5 Water resources are often impacted as a whole watershed, so water stewardship must be done on a watershed scale, involving stakeholders and considering water availability and quality for the whole catchment.
Scientific monitoring of water resources, ecosystem requirements, and projected available water in the future will guide development of targets and goals. Analyzing water related risks to a company can determine the most economical risk mitigation actions to take, and will likely involve action 'beyond the fenceline'. To effectively reduce water risks to themselves a company must work with other users in their watershed.
Corporate water stewardship requires significant time and investment, however the future benefits to the company can also be calculated in terms of time and money.

Why Businesses are Key?
Businesses are uniquely positioned to champion water stewardship and drive innovation and better water governance.
Leadership: Corporations can be significant employers, as well as water users, within a specific watershed, making them ideally positioned to take a leadership role in water stewardship.
Supply chains: Large manufacturing companies can have a significant impact on water stewardship in many parts of the world by requiring producers to implement certain water management practices.
Fast action and innovation: Businesses are able to quickly and effectively make changes in water use and management practices that reduce their risks while also increasing water security for others in their basin. Innovative solutions to water risks developed by one company may benefit many others.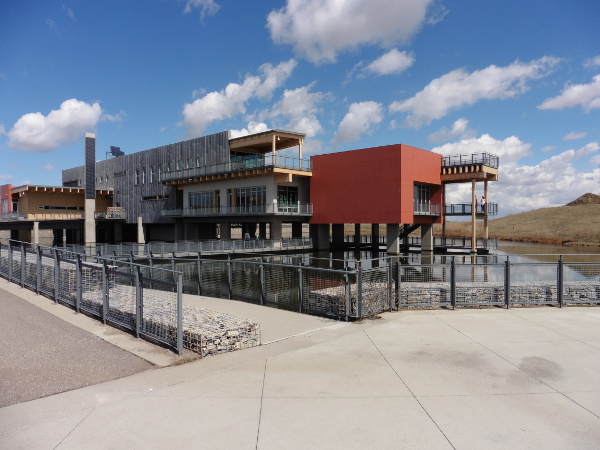 Water Stewardship Certifications and Tools
The Alliance for Water Stewardship (AWS) has an internationally recognized Water Stewardship Certification Standard. The AWS Standard guides the implementer through the processes of identifying the current state, coming up with prioritized actions towards better water resource stewardship, tracking and reporting, and continuous improvement. It requires the user to consider water quantity and quality, important water resource areas, and local resource governance in assessing impact and establishing goals. The standard is designed to be used globally, and by any type of organization, but is targeted towards those who use large quantities of water, and/or who have responsibility to manage the resource.
As a result of following the steps of the AWS Standard a company will have a thorough understanding of the water resources and issues in their watershed, the other users and their needs, the impacts that the company has on water, and the implementable strategies for improvement that will have the most added value and overall benefit. Organizations in the same watershed can benefit by working together on the AWS Standard.
There are numerous tools and initiatives that encourage and support corporate water stewardship, and the benefits reach far beyond the company's 'fence.' While water insecurity and water risks are increasing around the globe, corporate water stewardship is an achievable and essential part of sustainable water resource management. The AWS standard provides the framework and structure within which these tools can be leveraged by corporations.
WaterSMART Solutions has a long history of working at the watershed scale and recognizes the value of sincere and robust stakeholder engagement. WaterSMART views this standard as a pivotal approach in helping water users understand their place in the watershed and recognize the broader context. Understanding how an organization's "inside the fence line" actions impact the watershed will truly help improve the condition for all affected. WaterSMART has already been introducing the AWS standard concepts to their project work to help add credibility, structure, and consistency to various types of water-related projects.
Brie works as an environmental scientist for WaterSMART Solutions and is passionate about ways people can use water better.
Ed is a Special Advisor to WaterSMART Solutions in areas of sustainability such as best practices, strategy, metrics, reporting, awareness building, collaborative efforts, and policy regarding water, sustainability, natural resources, and environment. He is on the Alliance for Water Stewardship (AWS) Board of Directors, is a member of the Advisory Group to AWS North America, and is an accredited consultant with AWS.
Sources:
1. Government of Alberta. 2002.Facts about Water in Alberta. Pg. 35.

2. Statistics Canada. 2017. World Water Day by the numbers… https://www.statcan.gc.ca/eng/dai/smr08/2017/smr08_215_2017

3. CDP. 2016. Global Water Report 2016. https://www.cdp.net/en/research/global-reports/global-water-report-2016

4. CDP. 2017.Global Water Report 2017. http://b8f65cb373b1b7b15feb-c70d8ead6ced550b4d987d7c03fcdd1d.r81.cf3.rackcdn.com/cms/reports/documents/000/002/824/original/CDP-Global-Water-Report-2017.pdf?1512469118 (pg 8)

5. Alliance for Water Stewardship. 2018. About the Alliance for Water Stewardship. http://a4ws.org/about/