PUBLISHED: 05 August 2021
Why Alberta Irrigation Matters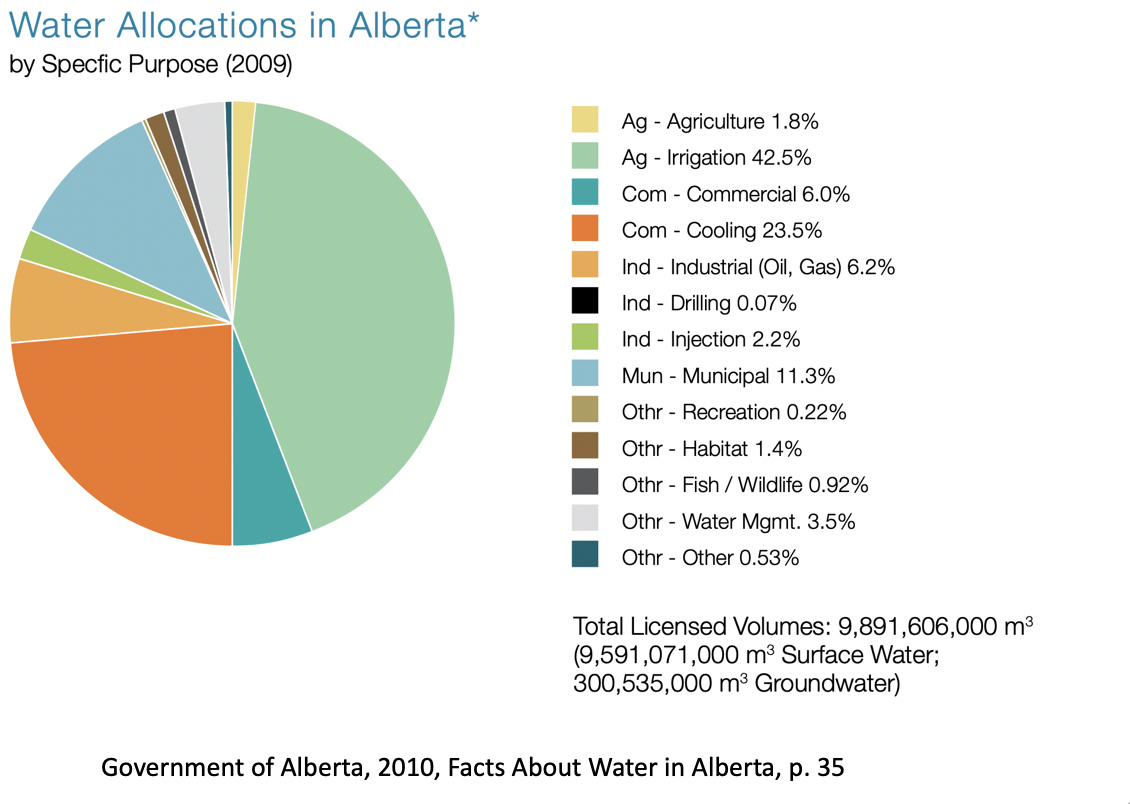 With more irrigated agricultural land than the rest of Canada combined, Alberta is the 'capital of irrigation' in Canada. Irrigation provides agricultural producers with a supply of water to supplement natural precipitation through the growing season supporting consistent crop growth and yields.

Across Alberta's more than 625,000 hectares of publicly and privately irrigated land, irrigation producers grow more than 60 different types of crops including 29 specialty crops, which allows them the flexibility needed to sustain viable farm enterprises, even with the market swings in commodity prices. Having that market flexibility does not come to the producer without a significant investment in irrigation equipment and other agricultural production systems, which creates opportunities for businesses that support the producers. Sales of high-quality and dependable specialty crops and livestock support value-added food production in Alberta Agri-food processing facilities. These facilities generate employment for many Albertans. Employment is also generated by businesses that sell inputs (seed, feed, fertilizer, machinery, and equipment, agronomic and financial services) to irrigation producers that support on-farm production.
In Alberta, irrigation accounts for approximately 95 per cent of total water allocations for the agricultural sector. While it occurs on less than six per cent of the cultivated land base in the province, irrigation contributes to more than 19 per cent of the gross primary agricultural production.
Click here to see a comprehensive economic analysis of the value of Alberta's Irrigation Districts.
Where does irrigation water go?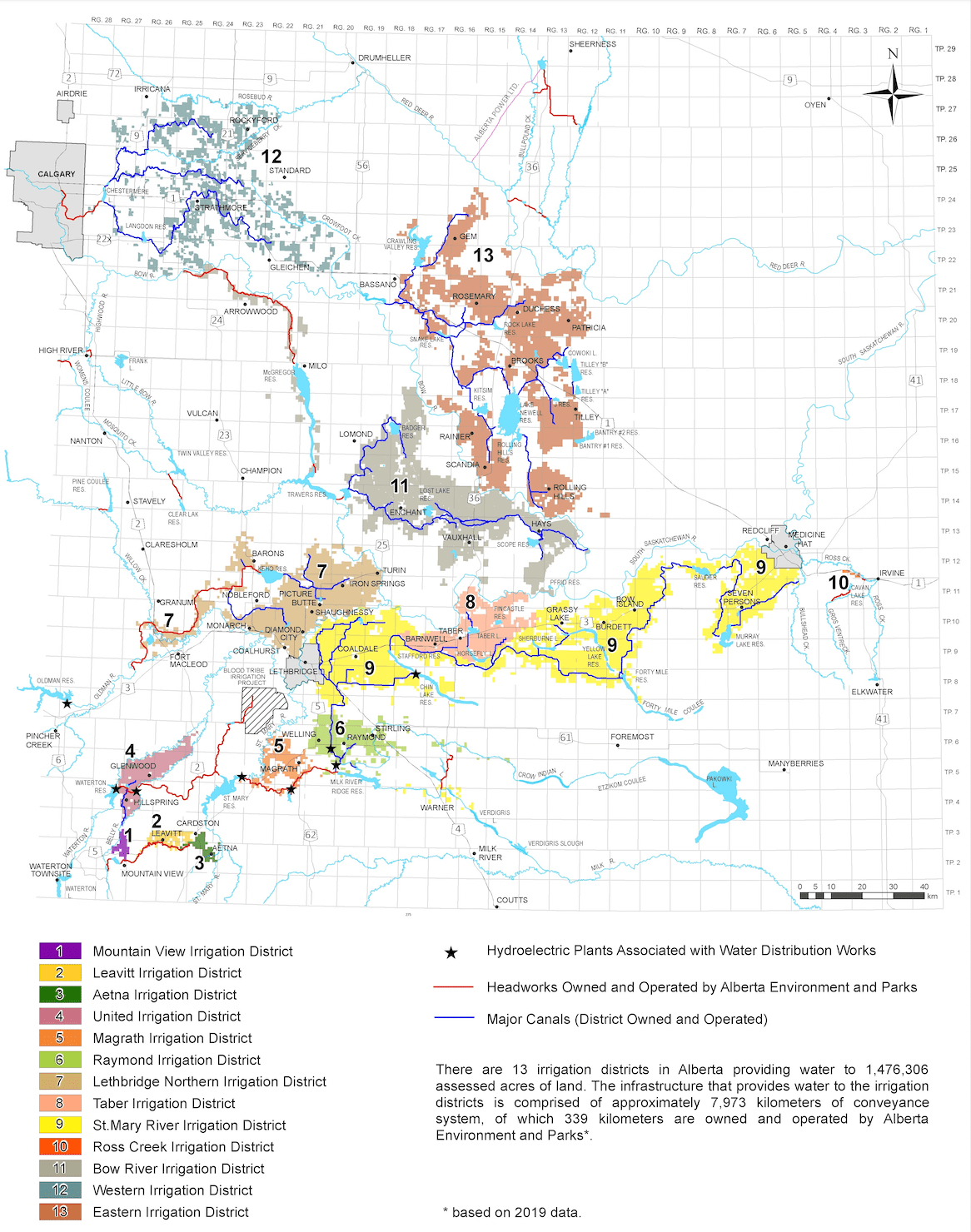 In southern Alberta, irrigation districts primarily deliver water to agricultural producers to support crop and livestock production. However, the water delivery system also delivers water to other users and uses. About 50 municipalities and over 50,000 Alberta residents receive water for domestic use through the system. Many businesses receive water through the delivery system to support their daily needs, and more than 33,000 hectares of wetland habitats are created or enhanced by water delivered through irrigation infrastructure.
Water to support irrigation districts is generally diverted from rivers. Eleven irrigation districts rely on provincial government-owned diversion infrastructure, while two irrigation districts own and operate their own diversion infrastructure.
Reservoirs are a key part of the irrigation distribution system. They create resilience to drought and flood conditions by capturing water during high river flow and storing it for later delivery and use when diversions decrease to protect aquatic life in rivers. Eleven reservoirs supporting irrigation districts are owned and operated by Alberta Environment and Parks, and 41 off-stream reservoirs are owned and operated by Irrigation Districts throughout the region. Onstream reservoirs help Alberta meet water apportionment commitments to the downstream provinces of Saskatchewan and Manitoba. Irrigation storage reservoirs also support fish and waterfowl habitat, in addition to providing recreation opportunities. Reservoirs can even allow hydroelectric power generation in some cases.
Unfortunately, some water is lost from reservoirs to evaporation. Water is also lost to evaporation and seepage from irrigation canals. Investment in technological improvements and rehabilitation activities helps reduce water loss and increase irrigation efficiency.
Current infrastructure and irrigation expansion projects
While there are private irrigators that also operate in the province, most irrigation in Alberta occurs in 13 irrigation districts located in southern Alberta. Irrigated land in the districts covers 525,000 hectares of land. The water distribution network supporting irrigation districts is extensive consisting of:
8,000 kilometres of conveyance pipelines and canals,
52 irrigation storage reservoirs,
4,900 kilometres of drainage canals returning surplus water to source rivers.
In the fall of 2020-2021, a historic modernization plan was announced by the Government of Canada, the Province of Alberta and 10 irrigation districts. The plan sees a financial investment of $932.7 million from all three parties to support infrastructure rehabilitation projects and the construction or enlargement of up to four off-stream irrigation storage reservoirs.  Water efficiencies gained by the projects will support the future development of an estimated 95,000 hectares of irrigated land through the 10 districts. See the chart below for the provision of project funds:
| | |
| --- | --- |
| 30% | The Government of Alberta |
| 50% | The Government of Canada through the Canada Infrastructure Bank (CIB) through a long-term financing arrangement |
| 20% | Involved districts* |
*In addition to providing 20 per cent up-front costs, districts are fully responsible for the repayment of the financing provided by the CIB.
Click on the links below to learn more about the individual projects funded through this investment in the Alberta Irrigation Districts:
Frequently Asked Questions
To learn more about the modernization plans, click here for a list of frequently asked questions.