PUBLISHED: 15 October 2022
Regenerative Agriculture Practices
Note: "Regenerative Agriculture" is not one specific practice. It is a broad term that comprises a variety of methods to conduct agriculture while simultaneously addressing ecological conservation. In the following discussion, the practices described are considered regenerative agriculture, but there are many other practices as well. Regenerative agriculture practices are different for different regions and types of farming.
Climate change is a global issue that has surfaced in recent decades, and it heavily impacts the agricultural sector. Climate change is primarily caused by greenhouse gas emissions. It has resulted in a shift towards higher temperatures. These alter the growth period and rate of crops and increase frequencies in weather extremes like drought and flooding. Regenerative agriculture practices can combat climate change by building on the carbon cycle to improve soil and crop health. It seeks to rehabilitate and enhance the farm ecosystem by prioritizing soil health while also being aware of water management, fertilizer use, and more [1]. A select few regenerative agriculture principles are discussed in depth below:
Minimizing Tillage
Minimizing tillage is a method that tries to reduce any disturbance to soil. This is important because lots of different chemical reactions take place within soil. First, carbohydrates become trapped in soil when plants create excess sugars. Then, microbes in the soil can use these excess sugars as food. After these microbes consume the sugars, they generate carbon dioxide as a waste product. When these reactions take place in soil, the carbon dioxide is trapped within the soil. The soil acting to capture carbon is crucial, since carbon dioxide contributes to climate change. Minimizing tillage can also be paired with cover crops to reduce physical disturbance to soil. Cover crops are crops that protect soil from erosion and improve soil quality. By taking care to maintain natural soil health, the resiliency of agricultural ecosystems can be increased [2].
Crop Rotation
Crop rotation involves planting different types of crops on the same land over time. This is effective because different crops produce different types of sugars and nutrients. Areas that use crop rotation become more nutrient dense and biodiverse. This can be observed by farmers through soil fertility and high crop yields. Different types of crops also have different root structures, which improve the physical stability of soil. Crop rotation over time can improve the soil's physical, chemical, and biological characteristics [3].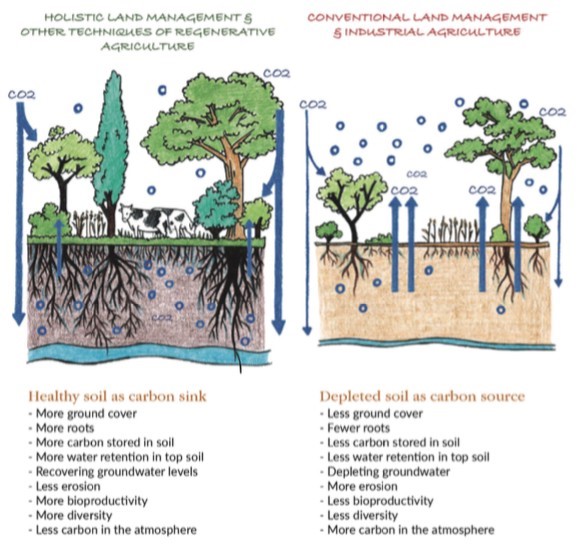 Regenerative agriculture practices have many advantages, but there are also disadvantages to be aware of. Table 2 highlights some of these pros and cons:
Table 2: Advantages and disadvantages of regenerative agriculture practices [5]
| | |
| --- | --- |
| Advantages | Disadvantages |
| Increase soil fertility without using fertilizers (additional costs) | Requires planning ahead of time |
| Reduces atmospheric carbon dioxide | Requires extensive knowledge of crops |
| Improves physical stability of soil (reduces erosion) | Less profitable in the short term |
| Reduces surface runoff from precipitation | |
Regenerative agriculture has become more common in Alberta, especially in the past three years. Farmers like John and Tanis Cross, who own the 135-year-old A7 Ranch near Nanton, are committed to regenerative agriculture practices to improve the quality of the soil. Becky and John Doherty, the owners of a farm near Wildwood, AB, have noted that regenerative agriculture is bringing their soil back to life. It allows them to work more efficiently and focus on running their dozen different enterprises [6].
References
[1] California State University, Chico, and The Carbon Underground. (2017). What is Regenerative Agriculture? https://regenerationinternational.org/wp-content/uploads/2017/02/Regen-Ag-Definition-2.23.17-1.pdf
[2] (2019). What is Regenerative Agriculture?. The Climate Reality Project. https://www.climaterealityproject.org/blog/what-regenerative-agriculture
[3] Arty Mangan. (2020). Crop Rotation: Improves Soil Health and Yields. Bioneers. https://bioneers.org/crop-rotation-improves-soil-health-yields/#:~:text=Crop%20rotation%20was%20practiced%20by,increase%20biodiversity%20on%20the%20farm
[4] Daniel Christian Wahl. (2017). Regenerative agriculture: effective responses to climate change. Medium. https://medium.com/activate-the-future/regenerative-agriculture-effective-responses-to-climate-change-561b5e2bdba9
[5] (2020). Can regenerative agriculture replace conventional farming? EIT Food. https://www.eitfood.eu/blog/can-regenerative-agriculture-replace-conventional-farming
[6] Jennifer Blair. (2021). Regenerative agriculture is becoming the next big thing for consumers. Alberta Farmer Express. https://www.albertafarmexpress.ca/news/regenerative-agriculture-is-becoming-the-next-big-thing-for-consumers/
Thank you to our generous sponsors for the Water Connections Project
This phase of the project has been made possible by Nutrien, Enbridge, and Manulife Financial, along with the Government of Canada and the Government of Alberta through the Canadian Agricultural Partnership.