The Bog
The Bog is where thoughts, opinions, discussion pieces, and action converge. Influential thinkers from the water community are invited to share their insights on current or controversial water topics. Please note that the views expressed herein are those of the authors, and do not necessarily reflect the position of the Alberta WaterPortal.
The good, the bad, and the government: political response to the water crisis in Cape Town
This is a summary of the presentation delivered by Kim Sturgess at The Schulich School of Engineering at the University of Calgary on June 4th, 2018.
In early 2018 the world's interest and anxiety was captured by the announcement of Day Zero and the online clock counting down toward the projected time when the household taps of Cape Town would have to be turned off and water would be delivered by truck to city residents. Media around the world began talking about water scarcity and examining factors threatening the water supply of other cities. There was a general increase in awareness that municipal water supply could run out and what that could mean for a city. This global 'conversation' about water scarcity was a good thing, but there have also been negative consequences to the sensational announcement of #dayzero.
Read more: The good, the bad, and the government: political response to the water crisis in Cape Town
Corporate Water Stewardship: a crucial part of global water security
By Brie Nelson and Edwin Piñero
Commercial and Industrial Water Use and Water Related Risks
Companies that make up the industrial sector and commercial sectors play a significant role in water use. In Alberta, approximately 38% of water allocations are for commercial and industrial activities.1 This number excludes companies that receive their water from municipalities and from irrigation districts. Across Canada, industrial activities withdrew 30.2 billion m3 of water in 2013, approximately 85% of this was for thermal electric generation.2 Almost all of the water withdrawn for these industrial activities was returned to the environment, as seen below in Figure 1.
Read more: Corporate Water Stewardship: a crucial part of global water security
Words of Wisdom from Alberta's Aqua Champion, Kim Sturgess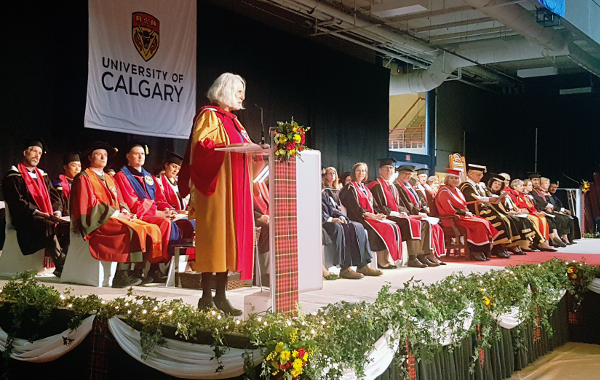 We are still buzzing with inspiration after Kim Sturgess's convocation speech yesterday after receiving an Honorary Degree of Law from the University of Calgary. Kim provided the engineering graduates with a few words of wisdom as they start on their career paths, but professionals of all experience levels can benefit from her lessons.
1. Live where your heart is happy – For Kim, this is Alberta. From her first summer in mountains as a young summer student, she knew she was home. Find where your heart is happy and make this your home.
2. Follow your passion – Even when your ideas are met with discouragement or confusion, as many great ideas often are, find your supports and follow what you believe in.
3. Honor your profession – An engineer holds a great deal of responsibility and accountability. Be sure to follow the code of ethics and take all responsibilities seriously.
4. STEM starts at home – In the words of Kim, "when that little one comes home and says "I want to be an engineer", say "fantastic, what can I do to make that come true for you". Encourage children to follow their passion in STEM from a young age, and do what you can to support those dreams.
In the words of Aritha Van Herk, "with infectious passion, [Kim] has made water her inspiration and spirit … this woman who resonates water's bright grace, its flow and murmur, and its wellspring importance." Congratulations Kim.
The Connected Home and Water: How IoT Technology Helps Conserve and Protect
by Nadine Evans
It is no secret that Canadians aren't exactly great at water conservation. We are among the world's largest water wasters, consuming twice as much water as Europeans, which may be in part due to the abundant supply of fresh water in Canada. In fact, nearly 10% of the world's renewable water is located here, despite us housing less than 1% of the world's population (Source). Water scarcity isn't something that Canadians often worry about.
However, with water utility prices continuing to rise and a global water crisis looming, many homeowners have begun to re-examine the practice of water conservation.
First, let's consider how water is used in a home. There's obvious water wasting habits, such as running water while brushing your teeth, taking unnecessarily long showers, or watering your lawn when rain is expected. While these habits all add up to significant waste, did you know that one of your biggest water wasters is often hidden? Most homeowners are surprised to learn that 13% of a home's water usage is lost due to leaks, many of which go undetected for some time, leading up to significant water loss.
Read more: The Connected Home and Water: How IoT Technology Helps Conserve and Protect
"What's in your water?" event press release
Busting the myths and concerns about what's in our water: Alberta organizations team-up to improve public information on water quality in the Bow River Basin
CALGARY, ALBERTA, Jan. 19, 2018 – How concerned should I really be about the fluoride in my drinking water? Why is water quality such an issue in many Indigenous communities? Do I need to worry about lead in my pipes? What is the level of harmful chemicals in my local river and is it safe to swim and fish? These, among others, are questions the public grapples with when thinking about the water they drink and enjoy, and which supports Alberta's aquatic ecosystems.