PUBLISHED: 09 July 2020 Last Edited: 07 February 2022
Teaching the value of water, food and energy, Inside Education's Cultivate 2020: Youth Agriculture Leadership Summit Features the Nexus
By Kathryn Wagner of Inside Education and Brie Nelson of the Alberta WaterPortal Society
The Alberta WaterPortal Society and Inside Education have a shared goal of helping Alberta teachers and students understand the interconnectedness of our water, food and energy systems: The nexus! Connections arise because these systems are reliant not only on each other, but also on the same limited resources. Our systems of producing energy require water; water pumping and treatment requires energy; agricultural production and the whole supply chain requires both water and energy; and our human communities need all of these systems, and the ecosystems that support them, in order to thrive. Recognizing the interconnections of these systems leads to opportunities and innovative problem-solving! (learn more here).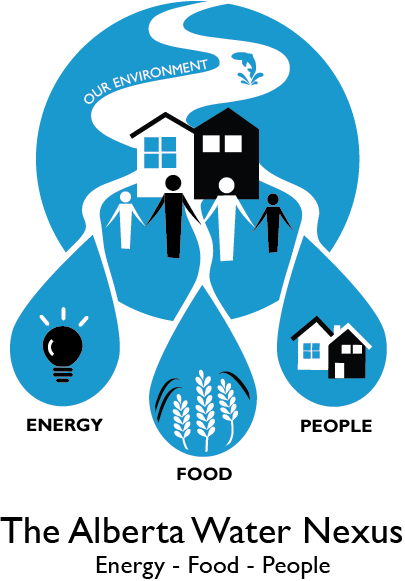 Inside Education has been introducing nexus content into junior and senior high school classrooms through interactive presentations and other resources for years. This past March , high schools from across Alberta had the opportunity to participate in a unique event that showcased a deep dive into agriculture, the nexus, and innovation built on interconnection during Cultivate 2020: Youth Agriculture Leadership Summit, March 5-8, 2020.
Over the course of four days, students and teachers were introduced to the complexity and innovation that is part of the agriculture sector in Alberta. With the goal of inspiring critical thinking, experiential learning and active stewardship, the summit allowed students to explore many significant topics. Multiple perspectives were introduced with a focus on feeding a growing population and increasing the resilience of our land and water resources.
The Alberta WaterPortal Society was prominently featured during the Cultivate 2020 summit; Dr. Kim Sturgess participated as a panelist on the Food-Energy-Water Panel and Brie Nelson shared expertise and resources from the Alberta WaterPortal Society during roundtable discussions. Acting as "Idea Cultivators," they contributed valuable perspectives that helped structure students' understanding and shape school based action projects. Youth summits provide a rare opportunity for program partners, experts, teachers and students to forge lasting connections through sharing ideas, expertise
The student teams who kicked off their action projects at Cultivate 2020 have now been challenged in a completely different why by the physical limitations caused by COVID-19 health measures. The groups of students have needed to innovate, adapt and shift their learning and collaborating on this work to online.
The impact of collaboration around a school project or a youth summit is long-lasting and the Alberta WaterPortal Society and Inside Education look forward to ongoing projects in order to teach, share and learn together! One of these projects is the Alberta Water Nexus Project, which the Alberta WaterPortal Society is completing currently with the support of Inside Education. This project is producing videos, online tools and educational resources for teachers and students to explore the water, food and energy nexus. These new resources will be published this summer and introduced to teachers and classrooms this fall.
You can watch a short video about the water, food and energy nexus here, or explore the different sectors and the interactions between them in more detail on these pages for food, energy and communities.
Attendee testimonials
"This event has inspired my students to incite change in our school, seeing that many young leaders have already made a huge impact on their own communities." Tamara Morales Chavez | Teacher WP Wagner High School, Edmonton
"The Cultivate experience informed us and gave us more confidence in tackling our project. Collaboration and connections are a big part of success, and this opportunity presented both. We had a fantastic time!" -Justin Grainger | Teacher Bill Woodward School, Anza
"This opportunity has really pushed this once dormant project into action. I feel like we can actually do this and have a positive impact." – Chloe | Student Robert Thirsk High School, Calgary
High schools that attended
Altario School | Altario
Bill Woodward School | Anzac
Brooks Composite High School | Brooks
École Voyageur School | Cold Lake
J.T. Foster School | Nanton
Jack James High School | Calgary
Lacombe Composite High School | Lacombe
Matthew Halton High School | Pincher Creek
Mistassiniy School | Wabasca
Morinville Community High School | Morinville
New Myrnam School | Myrnam
Queen Elizabeth High School | Calgary
Queen Elizabeth School | Edmonton
Find a downloadable report from the Cultivate 2020 Summit here