PUBLISHED: 15 October 2014
Property Rights
How Water is Governed:

What are Property Rights?

Across Canada and in Alberta, there is no single definition of property rights and no single law that defines them. In general, however, property rights assure property owners that they can use their property as they see fit, and protect the ownership of their property from government intervention.

Throughout Canada, property rights are governed differently by each Province adding to the different perspectives on property rights. Furthermore, both the Constitution Act, 1982 and Canadian Charter of Rights and Freedoms, 1982 do not enshrine ones right to own property. In Alberta ownership is central to the understanding of property rights and subsequent uses or opportunities for land-use. Property ownership provides landowners with a level of protection that enables them to use, develop and enjoy property as they see fit.

In the event of land expropriation, however, land can be taken away from private landowners by the government to be used for the public good.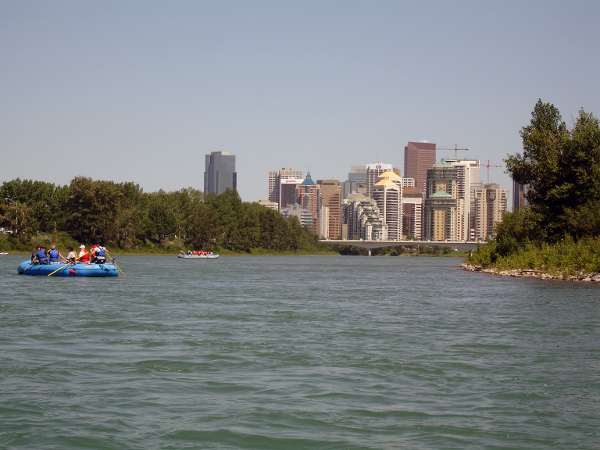 "Bow at Calgary Mike Murray 2a"

by Mike BRBC is used with permission.
Subsurface, Mineral and Water Rights
Some of Alberta's earliest legislation was related to the issues of access to water. For example, the North West Irrigation Act, 1894 was implemented by the Canadian Federal Government to provide landowners and farmers the legal right to access water. Development of the North West Irrigation Act, 1894 led to the creation of water licenses that gave farmers the right to water. Included in the North West Irrigation Act, 1894 was the concept of the First-in-Time, First-in-Right (FITFIR) system of water allocation that remains in place today.
FITFIR was developed to provide all water users with water licenses to divert water from surface and groundwater sources. Essentially, water licenses provide users the right to water for agricultural, municipal, industrial, environmental and other uses. This right to water, otherwise known as an allocation, is ultimately tied to land ownership and property rights.
After Alberta became an established Province within Canada in 1905, the Water Resources Act, 1931 was implemented to confirm that all water is property of the Province instead of the Government of Canada, and a right to use water would continue under the system of FITFIR. More recently, the Alberta Water Act that was first passed in 1996 and then amended in 1999 further stipulates rules for water allocation and transfers. Governed by Alberta Environment and Sustainable Resource Development, the Water Act, 2000 provides the legal foundation for water licensing, which further determines how water is used by landowners in Alberta.
Property ownership in Alberta also includes rights to the area above a surface as well as subsurface minerals excluding those resources set aside by the Government of Alberta (the Crown). For example, gold, silver and naturally occurring bodies of water such as lakes and rivers are reserved by the Crown while other resources such as sand or clay belong to the landowner. Aside from subsurface property ownership, a landowner can also own mineral rights that are located beneath their property, however, these rights must be leased from the Government of Alberta, who is the original owner. Mine and mineral rights can include petroleum products such as coal and natural gas. In order to gain ownership of these minerals, landowners are required to have a Mineral Certificate that identifies the specific mineral deposits and necessary ownership information. Landowners not interested in owning mineral rights are still able to own property while the Government of Alberta remains the owner of subsurface and mineral rights on that land. Essentially, subsurface and mineral rights are tied to land ownership further becoming part of the property rights conversation.
Property Rights, Easements and Land-Use
In Alberta, property rights, land-use, water rights and ownership have long been an issue. The need for a definition and understanding of property rights has emerged in recent years due to Alberta's growing population, growing agricultural and industrial sectors and emerging constraints on land-use and water-use. For this reason, a Property Rights Advocate Office (PRAO) has been implemented to address Albertans concerns with property rights and land-use. The PRAO aids Albertans, Government agencies and organizations understand the policies and laws surrounding property right to further advocate a fair and balanced approach to property rights issues.
In addition to property rights and land use, land easements are agreements between a landowner and land user such as an individual, business or municipality to gain access to property. Easements allow users to access land for roads, pathways, utilities, power lines, sewer and water lines as well as gas or oil transmission lines. Essentially, landowners are able to continue owning their property, however, a defined portion of their land is used for another user to access.
To address land-use and water challenges, the Government of Alberta released the Land-Use Framework (LUF) policy in 2008 to initiate solutions that address Alberta's long-term environmental, economic and social goals. The LUF divides Alberta into seven regions based on watershed and municipal boundaries that require different approaches to land-use and water-use. The Government of Alberta passed the Alberta Land Stewardship Act (ALSA) in 2009 to provide the legal basis and governance structure of regional plans as they relate to the LUF. Upon implementation, the ALSA was subject to criticism, in particular by rural communities due to unclear definitions around proper compensation, cabinet approvals and court proceedings, therefore, the Act was amended in 2011.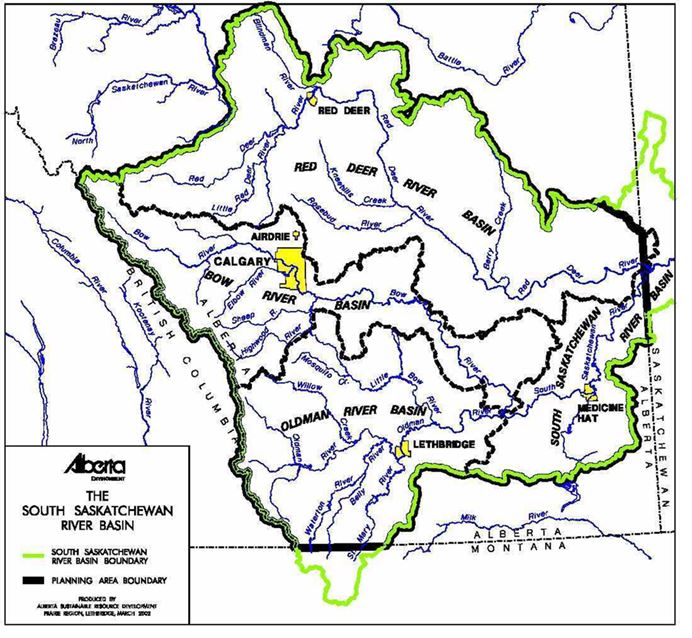 Map of the South Saskatchewan River Basin
Extreme Weather Events and Property Rights
Although property ownership may be observed by individuals and government organizations, the weather does not recognize such boundaries. This is especially noted in extreme weather events, such as flooding and drought. In order to mitigate the impacts of such extreme weather, property owners can choose from a variety of community-led or individually-led mitigation measures.

For example, major flood events could result in the need for individual-led measures such as sump pumps, personal flood barriers, or raising homes. On the other hand, community-led measures such as dams, berms, flood tunnels, and re-managing water systems can be implemented. Specifically, individual-led mitigation methods can have positive or negative consequences for nearby property owners, such as water being pushed onto neighbouring properties. Government or community-led mitigation options also have challenges, including upstream and downstream impacts as well as potential land or property expropriation, a process defined by the Land Compensation Board. Regardless of which flood mitigation measures are taken, questions of how property rights are impacted can quickly become complex and difficult to answer.