Drought in 21st Century Alberta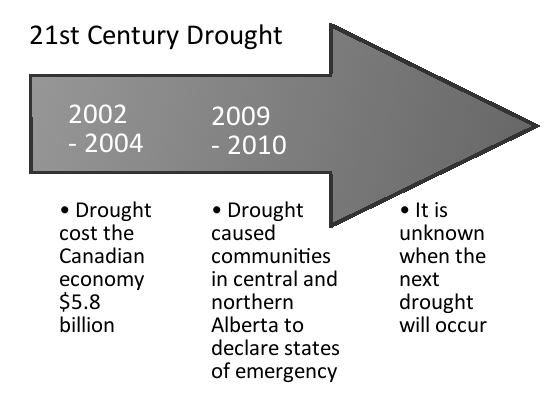 Figure: Drought in 20th Century Alberta
One of Canada's Costliest Natural Disasters
Drought once again affected Alberta in the early 21st century. Starting in 1999, and lasting until 2004 the drought during this period was felt across North America.
The drought during 2001-2002 was devastating to Alberta. Net farm income was zero in Alberta in 2002, and the drought cost the Canadian economy $5.8 billion, making it one of Canada's most costly natural disasters. Farmers abandoned their farms and 41,000 jobs were lost across the country[1],[2].
Recent Drought
Alberta experienced recent droughts in 2009 and 2010. In 2009, the drought most affected central Alberta in "Palliser's Triangle" region. The region experienced the smallest amount of precipitation in the past fifty years and ten counties declared states of emergency [3].
In 2010, northern Alberta was hit hard by drought. Ten municipalities including the counties of Grand Prairie, Saddle Hills and Birch Hills, as well as the Municipal Districts of Big Lakes, Northern Sunrise, Spirit River, Fairview, Clear Hills, Smoky River and Greenview, all declared agricultural disaster zones [4].
Government of Alberta responded with the "Agriculture Drought Risk Management Plan for Alberta," a risk management framework for managing drought's impacts on agricultural areas of the province.
Sources:
[1] Sauchyn, Dave et al. "Aridity on the Canadian Plains: Future Trends and Past Variability." Prairie Adaptation Research Collaborative.
[2] CBC News. 2009, July 10. "Parched prairies: latest drought a sign of things to come." CBC News. Retrieved from http://www.cbc.ca/news/canada/parched-prairies-latest-drought-a-sign-of-things-to-come-1.845429
[4] Rebecca Dika. 2010, August. "Peace region suffers third year of drought – for August 30, 2010." Alberta Farmer Express. http://www.albertafarmexpress.ca/2010/08/30/peace-region-suffers-third-year-of-drought-for-aug-30-2010/