The Water-Food-Energy Nexus in Alberta
Water lies at the heart of Alberta's social, environmental and economic well-being. An adequate water supply is required to meet demand from our growing population, maintain and improve environmental health, and support the production of food and energy. Meeting all of these needs is already challenging as Alberta experiences increasing pressure on water supplies due to population growth, economic development, and climate change.
The Alberta Water Nexus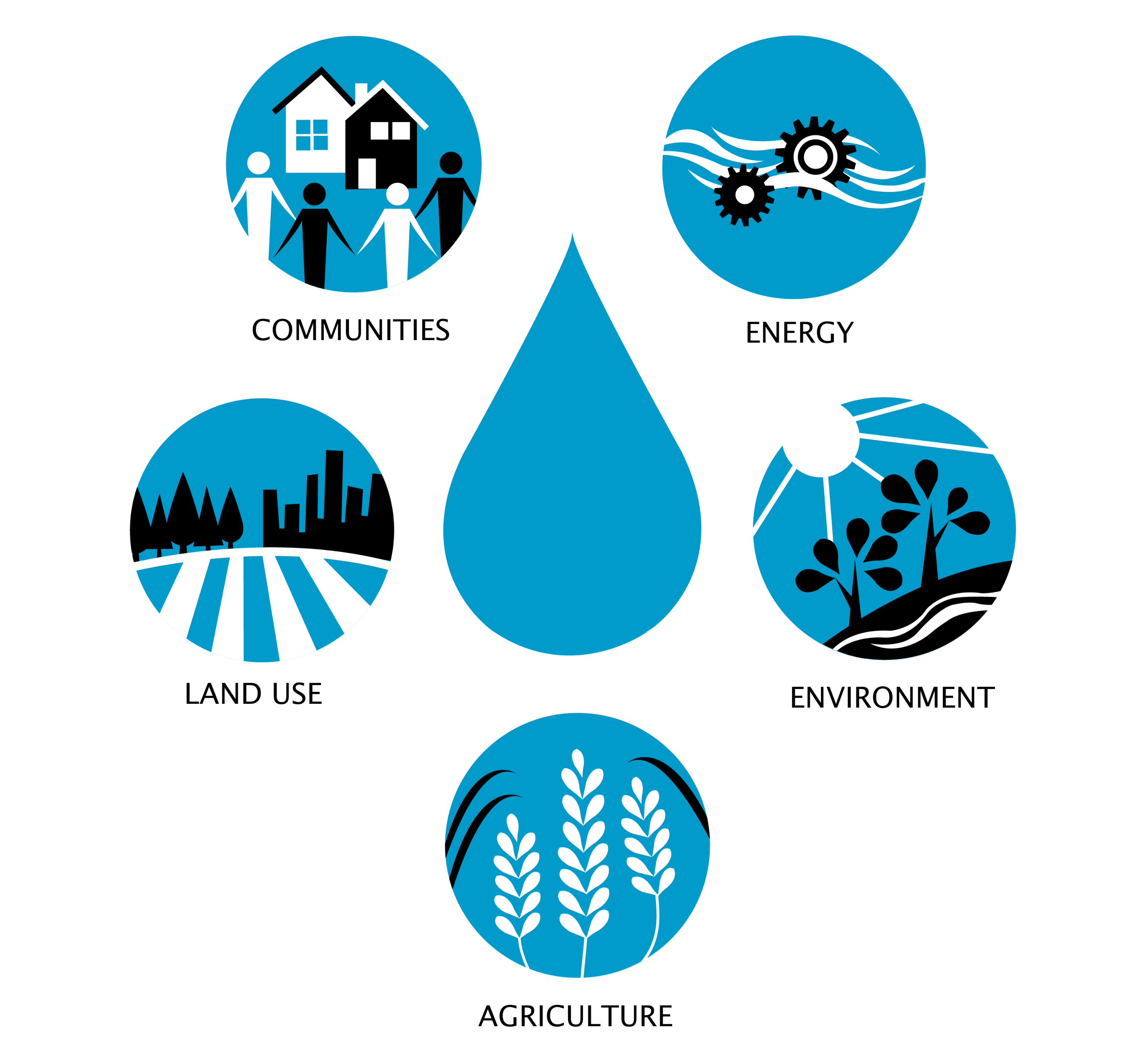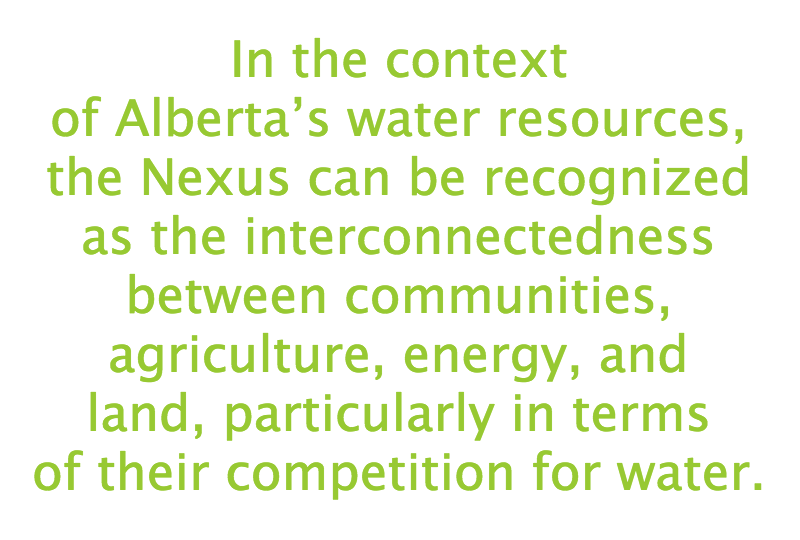 In Alberta we are further challenged by the fact water is used by numerous competing sectors across the province. For example, communities require water to meet their daily drinking water, sanitation, and other household needs. Agriculture, Alberta's largest water consumer, uses water for irrigation to help meet food production demands. Alberta's energy industry is also a significant water consumer, with water used intensively in a range of oil and gas production activities like oil sands mining, in-situ oil sands recovery, and hydraulic fracturing.
Our water resources and human population are not evenly distributed throughout the province, which poses another challenge. Approximately 80% of the water resources in Alberta are in the northern half of the province, while 80% of the population resides in the southern half. Alberta's population is expected to reach 6.2 million in 2041, further constraining available water resources in the southern portion of the province [1].
Piloting the Alberta Nexus Project - a closer look at competing demands in the Bow River Sub-Basin
The Alberta Nexus Project is launching a pilot that examines the Nexus concept in the Bow River Sub-Basin, to determine specific issues and trade-offs in the water, agricultural and energy sectors, and how each of these trade-offs relate to the environment and land use.
The Bow River Sub-Basin is a portion of the South Saskatchewan River Basin and provides water resources to approximately 1.2 million people in the cities of Calgary and Airdrie, as well as the Towns of Banff, Canmore, Cochrane, High River, and Okotoks [2].
The Bow River Sub Basin
In this sub-basin, agriculture, communities, and the energy sector compete for water and land resources, with agriculture being the most significant consumer. Community use of water such as drinking water and garden watering, as well as energy uses (such as oil and gas production) also compete for water, albeit in smaller volumes.
The Bow River Sub-Basin faces increasing water resource challenges due to climate variability, agricultural production, accelerating population and economic growth, competing land-use practices, and the cumulative impact of this growth on the environment.
Meeting these challenges will not be easy, mainly due to the complex relationship between water, food, and energy. Furthermore, the absence of a formal approach to manage the trade-offs between sectors competing for water complicates our understanding of the best uses for Alberta's water resources.
---
Sources
[1] "Population Projects: Alberta 2015 – 2041." Alberta Finance and Treasury. Accessed October 2015. http://www.finance.alberta.ca/aboutalberta/osi/demographics/Population-Projections/2016-2041-Alberta-Population-Projections.pdf
[2] "Profile of the Bow River Basin." Bow River Basin Council. Accessed October 2015. http://wsow.brbc.ab.ca/index.php?option=com_content&view=article&id=81&Itemid=83