Taber Irrigation District
The following is a complete list of all projects included in the Taber Irrigation District (TID) under this program. There is one modernization project and one shared reservoir project.
Modernization Projects
North Fincastle West Pipeline
This project includes one new pipeline to improve the efficiency of water delivery to approximately 3250 acres on 24 parcels of land irrigated from Fincastle Reservoir east of the Town of Taber. A new pipeline inlet structure and screen system within the North Fincastle approach channel will serve both the existing North Fincastle East canal and the new North Fincastle West pipeline. Existing sublateral pipelines served from the existing North Fincastle West canal will be tied in, as will the existing pipe spill to the Oldman River. This will increase delivery efficiency and pressure to farm turnouts, reduce operational spill, and improve dam safety by increasing emergency spill capacity and extending the time of year during which emergency spill can take place.
Schedule
Construction will start in the Fall of 2021 and be substantially completed for the 2022 irrigation season.
Cost Estimate
Initial estimate: $3,200,000.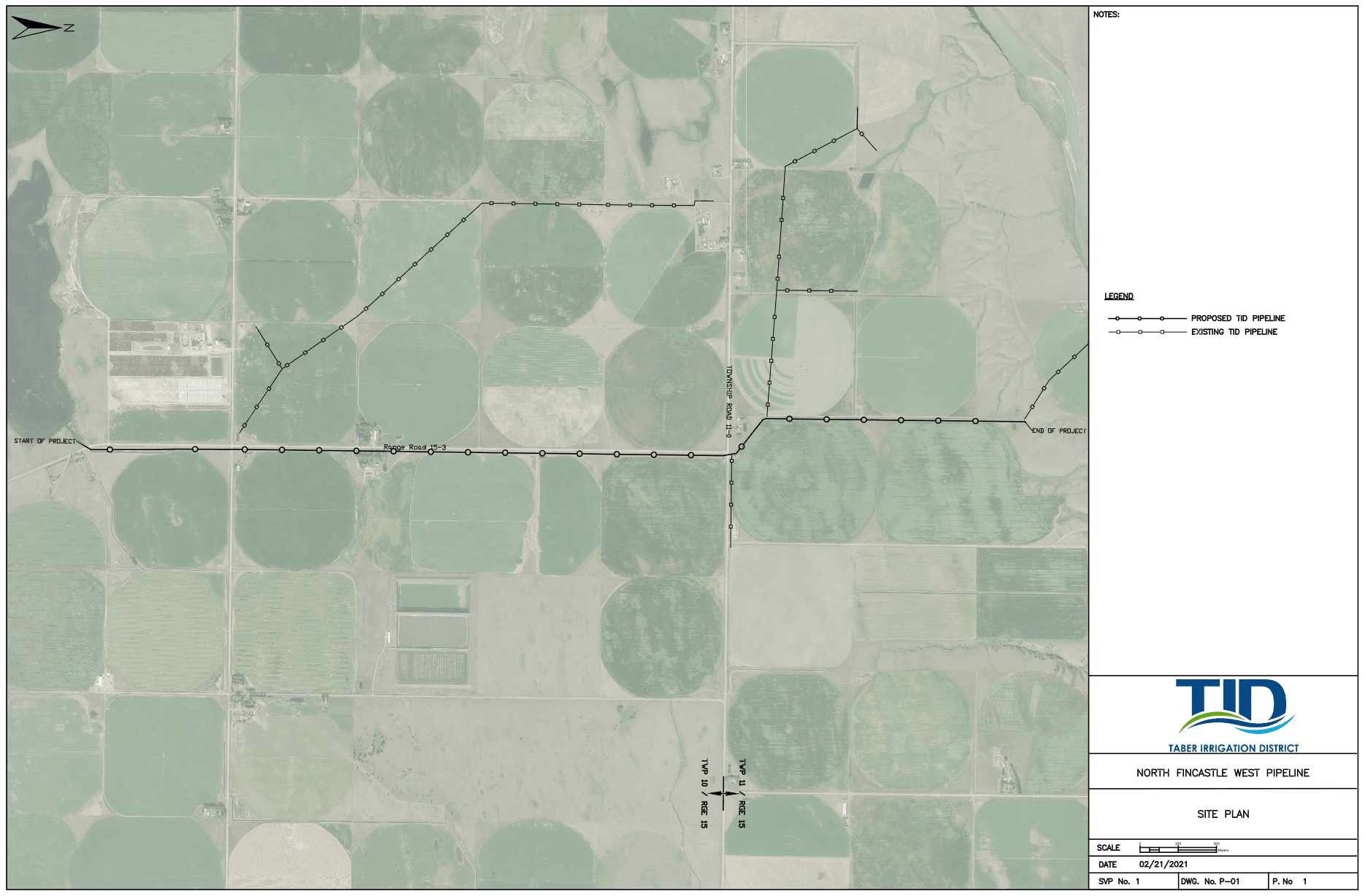 Reservoir Projects
Chin Reservoir Expansion
Taber Irrigation District (TID) receives all water deliveries under its water licenses from Alberta Environment and Parks via the St. Mary River Irrigation District (SMRID) Main Canal. Under the Main Canal Agreement, including SMRID, TID and Raymond Irrigation District (RID), the operation and maintenance of both the canal and in-line reservoirs are shared proportionally. TID will be participating 15 per cent toward the Chin Reservoir Expansion project through the publicly announced funding arrangement and will benefit from 15 per cent of the achieved water savings through improved balancing.
Refer to the SMRID projects overview for the description, schedule and cost estimate of this project.