History of the Co-operative Stormwater Management Initiative (CSMI)
Infrastructure has been conceptually designed to facilitate new development over the next 25 years. The CSMI Infrastructure will service an area with a projected population growth of 77,000 and 2,787 ha of industrial and commercial development.
Since 2012, the CSMI and its consultants have completed the following work:
Develop a Terms of Reference to provide a context for which CSMI can discuss stormwater management within their region (2012).
Identify a stormwater management philosophy within the CSMI geographic area (WaterSMART, 2013).
Identify and assess stormwater management options and regional scenarios, and identify preferred options (WaterSMART, 2013).
Develop and execute a Memorandum of Understanding to complete the necessary evaluations and assessments to determine project viability (2013/2014).
Complete an Engineering Assessment of Preferred Stormwater Management Options (MPE, 2014).
Receive concept endorsement from political and senior representatives (2014).
Develop and execute another MoU (2014/2015).
Complete a governance evaluation to identify how the group will govern itself moving forward (WaterSMART, 2015).
Complete a Water Balance and Stream Erosion Analysis (MPE, 2015).
Procure funding throughout the project to complete all of the above work
The work undertaken to date is summarized in Figure 1, with information on some of the specific tasks provided below.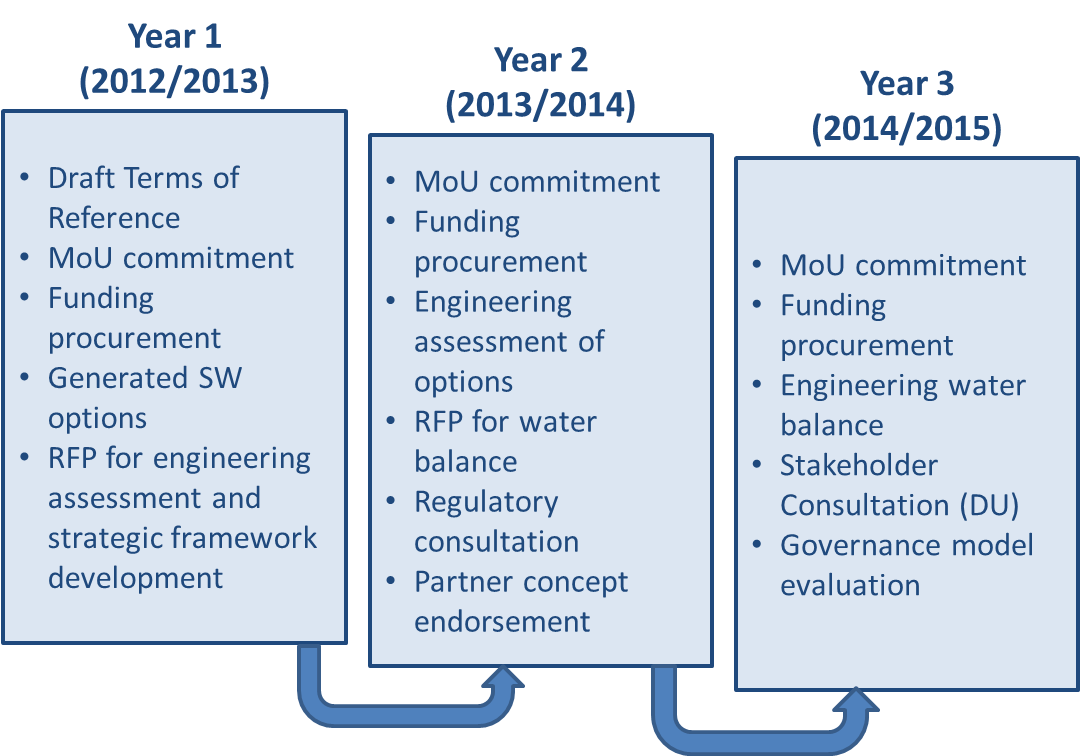 Figure 1. Summary of CSMI activities
Year 1: Partner Development and Draft Terms of Reference
Partner development began late 2011, and included a number of one-on-one meetings with representatives from the partner organizations. The June 2012 kick-off meeting brought technical and political representatives from the partners' organizations together to discuss how the CSMI could move forward in developing solutions for stormwater management that would meet the interests of all partners. The outcome of this meeting was for technical representatives to champion the development of a stormwater management plan, and re-introduce the political representatives when necessary to move forward with planning and decision making.
One significant component of partner development was creating a draft Terms of Reference (ToR). The ToR was developed to provide a context for which CSMI could have conversations with respect to stormwater management in their region. Development of the draft ToR required discussion at a number of meetings, one-on-one conversations with individuals within each partner organization, and multiple reviews and revisions. The process of developing the draft ToR involved attention to detail with respect to clarity in language, and agreement on definition of the problem with respect to partner concerns, principles, decision-making and communication processes. The CSMI has agreed to operate based on this draft ToR, which is a living document and may be updated with the agreement of all partners.
Year 1: Generate Stormwater Management Options; Stormwater Management Plan Development
Development of the stormwater management plan required a number of tasks, including numerous meetings with partners, and with sub-groups who have a shared responsibility of specific components of the stormwater management system. The sub-groups included Shepard and Area (Calgary, RVC, WID); Hartell Coulee (RVC, Wheatland, WID); and Eagle Lake (Wheatland, Strathmore, WID). Other activities undertaken to inform development of the plan were as follows:
1. Brainstorm options: Participating partners and AWS contributed to identifying 44 options.
2. Assess options: Options were assessed against partner interests, political viability, technical feasibility and cost to quickly remove non-viable options from the list.
3. Identify management philosophies: AWS identified a spectrum of collaborative stormwater management philosophies based on what they heard from partners.
4. Develop regional scenarios: AWS sorted the remaining options into three types (regional infrastructure, regional non-infrastructure and sub-regional), and bundled the options into regional scenarios. Each regional scenario represented a management philosophy.
5. Assess regional scenarios: AWS assessed the regional scenarios based on partner interests including cost, water quality/surge issue, water quantity, positive environmental impact, etc.
6. Identify CSMI's management philosophy: Based on this assessment, and discussions with the group, an agreement on a management philosophy was developed.
7. Confirm preferred options: The preferred options that align with CSMI's management philosophy were confirmed by all partners.
8. The CSMI made a commitment, through the execution of a Memorandum of Understanding (MoU), to move forward with the identified management philosophy and confirmed preferred options, to test their viability, and to develop a sustainable stormwater management plan that effectively integrates the viable options.
The urgency of specific options created the need to document the agreements made prior to the MoU, such that plans to move forward with sub-regional options may take place at the discretion of the partners involved, provided all partners agree sufficient information has been presented to the table with respect to how it will impact the overall management system, and that the sub-regional options adhere to agreements and commitments made by all partners.
Once the MoU was in place, a request for proposals was developed and advertised for the assessment of preferred stormwater management options and development of a strategic framework for CSMI planning tasks moving forward.
Year 2: Engineering Assessment of Preferred Stormwater Management Options
The CSMI solicited proposals for an assessment of their preferred stormwater management options over two, 10 and 25 year time frames, and development of a strategy to provide guidance for planning the process and technical components of a regional stormwater system prior to construction of any infrastructure. MPE engineering was retained to complete this work.
The assessment determined the feasibility of developing a regional stormwater system with the use of existing WID infrastructure and drainage channels, Weed Lake, and new infrastructure, and an assessment of the options for doing so. Discussions of the assessment within the CSMI led to the recommendation of one stormwater management system option: the out of canal option.
A Strategic Framework was developed which identified the Implementation Planning Phase, a schedule of tasks for the CSMI to complete prior to adoption and construction commencement of the recommended stormwater management system. These documents are available for public viewing. The Shepard Regional Drainage Plan is an alternative option for managing stormwater in one portion of the CSMI region, and was developed prior to development of the CSMI. MPE's presentation and work does not focus on a comparison, rather provides an alternative for consideration by those impacted by both options.
Click here to download the Engineering Assessment of Preferred Stormwater Management Option (April 2014) report.
Year 2: Regulatory Consultation
Partners agreed there was a need for discussions between partners and regulators to obtain clarification on the Water Act, Environmental Protection & Enhancement Act (EPEA), and the Irrigation Districts Act as they pertain to the preferred stormwater management option concept, and potential implications on governance.
The findings showed that discussions around regulatory requirements will continue as the system is developed. While AEP prefers that the owner of assets is the applicant for Water Act and EPEA approvals, regulatory requirements would not significantly impact the governance model. Governance principles were identified by the partners to address concerns regarding regulatory requirements and potential implications.
Year 2: Partner Concept Endorsement
A meeting with political representatives[1] from each partner organization was held in March, 2014 to explain the progress and outcomes of the engineering assessment. Subsequently, the CSMI partners received concept endorsement to move forward with the Implementation Planning Phase from their respective elected and/or administrative officials in the summer of 2014.
Following this, partners agreed that the water balance analysis, governance evaluation, funding procurement, regulatory communication, and regular ongoing meetings and communication to advance these tasks were critical to complete in the 2014 budget year.
Year 3: Governance Model Evaluation
The scope of the governance evaluation was discussed between July, 2014 and October, 2014. The proposed governance work plan was agreed to by partners in December, 2014 as the work continued to progress. WaterSMART lead the process and discussion on governance.
The key components of a governance evaluation that partners felt were necessary to address included:
Overall benefits for each partner
Board composition;
Risk and liability;
Principles for partner capital and operational proportional costs;
A mechanism for changing costs/shares in the future; and
Status of provincial authorizations.
WaterSMART lead the partners through an assessment of five key governance models to address the above concerns and identify a recommended governance model, and develop cost principles that could be applied by the future entity.
Year 3: Water Balance Analysis
Given existing MPE knowledge of the proposed system, MPE was asked to develop a proposal for the water balance analysis work. This work began in August, 2014 and completed in September, 2015. The Engineering Assessment of Preferred Stormwater Management Options report included an allowance for the construction of wetlands and some stream mitigation measures. The water balance analysis was required to quantify volumes of water contributed to the system by each partner organization based on planned development, potential downstream impacts of stormwater discharges from the land development areas, to refine what is needed to mitigate these impacts, and their associated costs.
The main objectives of the water balance analysis were to provide confirmation on the extent and types of stormwater mitigation measures to be applied to land development areas and within the regional CSMI scheme. Specific recommendations include:
volume control targets for land development areas,
area and type of additional wetlands that should be provided,
extent and cost of in-stream works to mitigate potential impacts.
Click here to download the Water Balance and Steam Erosion Analysis (Sept 2015) report.
CSMI Funding
The CSMI concept has been recognized through financial contributions by:
Royal Bank Blue Water Initiative ($85,000)
Alberta Municipal Affairs through the Regional Collaboration Program ($250,000)

The Bow River Basin Council was active in helping to secure this grant

Five participating municipalities, the CRP, and the WID contributed a total of $620,000.
---
[1] The City of Calgary was represented by the following designates from Administration: Leader, Resource Planning and Policy, Strategic Services, Water Resources; Senior Development Engineer, Infrastructure Planning, Water Resources; and Watershed Engineer, Strategic Services, Water Resources.
The Engineering Assessment of Preferred Stormwater Management Options examines various concepts related to Stormwater Management in the region. A recommendation is provided on the preferred CSMI Stormwater Management Concept and a subsequent Water Balance and Stream Erosion Analysis has been completed. Adopting the concept and implementing the next steps are being considered by all partners.