The Bog
The Bog is where thoughts, opinions, discussion pieces, and action converge. Influential thinkers from the water community are invited to share their insights on current or controversial water topics. Please note that the views expressed herein are those of the authors, and do not necessarily reflect the position of the Alberta WaterPortal.
Emerald Awards: Congratulations ALMS and SWRP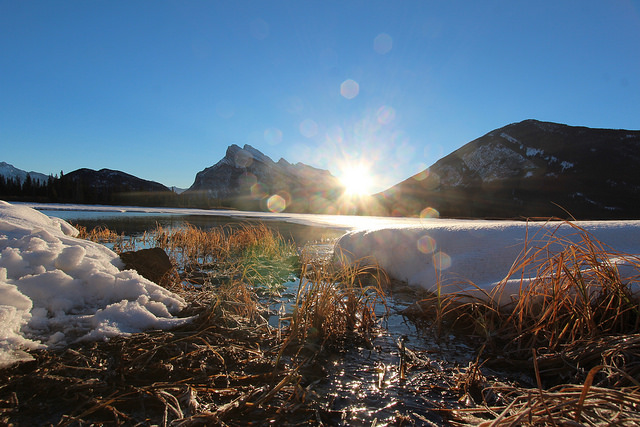 The 2014 recipients for the Emerald Awards were announced on June 5th and the water category saw two recipients honoured. Congratulations to the Alberta Lake Management Society and the Southern Rockies Watershed Project Team.
The Ripple Effect: Resilient Socio-Ecological Systems by Lauren Eden
With the one year anniversary of the 2013 flooding in Southern Alberta approaching it is important to consider moving beyond the initial flood recovery stages and to dive deeper into what it means to rebuild resiliency into our social and ecological systems. This blog will explore the theory of ecological resiliency and its application to social resilience. In a second installment, this blog will discuss the concept of socio-ecological resiliency. The intention of this series is to enhance our shared ecological literacy so we can begin to move forward and conceptualize resilient methods to mitigate and manage future floods or droughts within the Province.
In order to understand the importance of building our socio-ecological resiliency we must first understand ecological resiliency and how it has been applied to our social systems.
Read more: The Ripple Effect: Resilient Socio-Ecological Systems by Lauren Eden
Flood Forecasting Review and Workshop Conclusions
Two reports have been released from AI-EES and Alberta WaterSMART, one with conclusions from the February Workshop and another which compares the Alberta Flood Forecast system to other jurisdictions from across Canada and the globe. These reports focus on flood forecasting rather than flood mitigation, and are a follow up to a workshop we live tweeted back in February. As always, if you have feedback we will send it on to the authors.
Having attended the workshop, the following would be the top three most interesting things (to the author) mentioned at the workshop.
1. Data Collection - Community Collaborative Rain, Hail & Snow Network (CoCoRahs)
One problem that plagues flood forecasting is a lack of data, however that may change with enough citizen involvement. CoCoRahs is a volunteer program where individuals measure the rain at their home every day and submit information to a database thereby expanding the available data. This database can then be used by Flood Forecasters, Researchers, Modellers, or whoever is just curious to view the data or calibrate models. CoCoRaHs is a popular tool used in the U.S. that allows citizens to provide rainfall data to flood forecasting specialists. Specifically, Colorado used CoCoRaHs as an additional tool for acquiring precipitation data to determine water quantities during their 2013 flood. If you're interested in contributing, visit the CoCoRahs website for more information. Data collected from southern basins Alberta will be used put to good use. The data submitted from southern Alberta basins eventually feed into the Manitoba River Forecast Centre which uses CoCoRahs in their forecasting systems.
Read more: Flood Forecasting Review and Workshop Conclusions
Alberta's Watershed Management Symposium: Flood and Drought Mitigation
Today is the one-day symposium Alberta's Watershed Management Symposium: Flood and Drought Mitigation and the Alberta WaterPortal staff will be in attendance to live tweet the event. The Government of Alberta's event aims to "share the latest updates on snowpack data and river forecasting, as well as assessments of mitigation option for Alberta's most flood-prone river basins"[1]. If you can not attend the event we'd encourage you to follow us on twitter to receive updates throughout the day.
The event should see the release of new reports that address the feasibility of options that were presented at the October 4th Symposium. This blog post will be updated with those reports at the end of the day. In the meanwhile we've assembled a list of released reports to date. If we've missed any please leave a comment so that we may also add them to the list.
Read more: Alberta's Watershed Management Symposium: Flood and Drought Mitigation
Make It Count: Renewed Resolutions For Earth Day

Although Earth Day is a fantastic celebration of everything green we do, it is also a day that invites the obvious question: "why only one day a year?". Earth Day Canada has addressed this criticism this year with their "Make it Count" campaign, which has asked Canadians to set Earth friendly goals and track them throughout the year. What is fantastic about this campaign is that I know firsthand what they are proposing works because I tried it last year. However, instead of setting goals I committed to one relatively simple resolution.