COVID-19 Update
During the COVID-19 pandemic, Alberta WaterPortal staff will continue to provide web-based water information services such as our bi-weekly newsletter and work on water education projects. You can continue to use info@albertawaterportal.com to get in touch with us. Stay safe everyone!

The Bog
The Bog is where thoughts, opinions, discussion pieces, and action converge. Influential thinkers from the water community are invited to share their insights on current or controversial water topics. Please note that the views expressed herein are those of the authors, and do not necessarily reflect the position of the Alberta WaterPortal.
2014 Summer Wrap Up: Top 10 News Stories
As the summer winds down, we thought we would do a quick recap of our top news stories for those who (wisely) spent more time by the lake than by the computer. Using Bitly stats we organized the articles by the number of clicks and included the articles published between June 1st and August 29th that received the most clicks from our readers.

1. "'National disgrace': Alberta First Nations sue federal government over drinking water" by Jessica Barrett. (2014, June 19). Calgary Herald.
2. "The great wall of Elbow Park: How one homeowner plans to keep the next flood at bay" by Jason Markusoff. (2014, June 13). Calgary Herald.
3. "First Nations issues: What will make Canadians care?" by Chantelle Bellrichard. (2014, June 27). CBC News.
4. "Calgary attaching 'funky' fountains to fire hydrants for the summer" by Robson Fletcher. (2014, June 2). Metro Calgary.
5. "Expert sees growing trend of torrential downpours on prairies" by Matt McClure. (2014, June 30). Calgary Herald.
6. "Residents fighting uphill battle to save Muriel Lake" by Andrew Mendler. (2014, June 10). Bonnyville Nouvelle.
7. "Revolutionary waste water treatment developed in Edmonton" by Vinesh Pratap. (2014, July 4). Global News.
8. "Wildrose water allocation strategy raises fears" by James Wood. (2014, June 6). Calgary Herald.
9. "Province announces details of development in Alberta's South Saskatchewan region" by David Boushy and Melissa Ramsay. (2014, July 23). Global News.
10. "Montana's deadly flood a lesson Calgary chose to ignore" by Matt McClure. (2014, June 16). Calgary Herald.
Beavers— An Ally or an Inconvenient Species? by Lorne Fitch
While beavers have sometimes been considered a nuisance, recent studies suggest beavers can play a role in flood prevention and can help even protect waterways. Today's blog post was written by Lorne Fitch, Provincial Riparian Specialist with Cows and Fish: Alberta Riparian Habitat Management Society. If you would like to learn more about beavers and management of riparian areas visit the Cows & Fish website.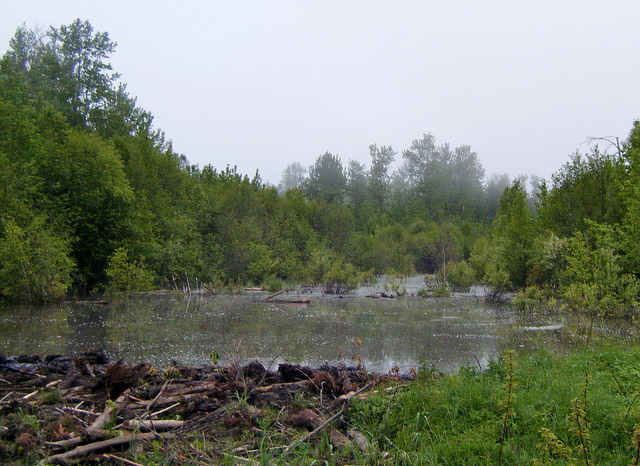 Photo: "elk island june 17 2014" by wapiti8 is licenced under CC BY 2.0.
The beaver is quite a package: it swims like a fish, cuts like a chain saw, moves materials like a front end loader, is the first water engineer and the first logger, and transforms landscapes at a scale that rivals humans. Some might consider them an inconvenient species.
As our national symbol the beaver is equally loved, hated and universally misunderstood. They can come with horns or halos. When they flood roads and property, cut favorite trees or inconvenience us in other ways they can seem the evil incarnate. To the myriad of plant, insect, fish and wildlife species beavers create habitat for and, to those that appreciate biodiversity, beavers are divinely inspired. In that balance beavers are seriously underrated as a species that can help us weather the storm of climate change.
The essence of climate change is greater variability in our weather. For many landscapes the trend is towards warmer and drier conditions. It may also mean more violent storms that dump massive amounts of rain in a short time period. It's a conundrum of generally less precipitation overall, but delivery faster than the landscape can absorb. In a perverse way it means increased drought and flood conditions, often within the same year.
Read more: Beavers— An Ally or an Inconvenient Species? by Lorne Fitch
Water Saving Tips From Team Coco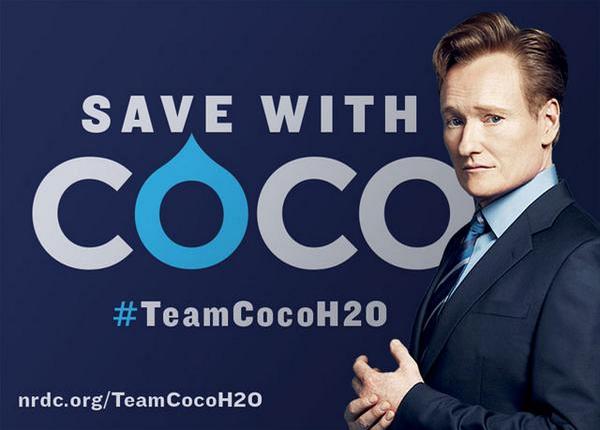 Presently, 58 percent of the state of California is experiencing an "exceptional" drought. This is the harshest drought rating, making water conservation practices more necessary than ever before. To communicate the importance of water conservation, the United States Natural Resources Defense Council has partnered with comedians Conan O'Brien and Andy Richter (dubbed "Team Coco") to get the message out to Californians on how they can save water.
Embedded below is the series of 6 water-conservation videos created by Team Coco. Although Albertans are not the intended audience we've shared these videos because regardless of where you live, conserving water should be a priority (plus these videos are pretty funny). That being said Team Coco uses imperial units of measurement so a translation into metric units of measurement has been included below.
Test Your Toilets
Cover Your Pool
40,000 Gallons = 151,416 Litres
Replace Your Lawn With Native Plants
Use Your Dishwasher
Take Your Ride To The Carwash
Being Lazy Has Its Benefits
Make A Difference - Actions For Individuals To Mitigate Flood and Drought | Storage
Welcome back to our series on actions individuals can take to contribute to flood mitigation on a community level. This week we are looking at water storage using rain barrels.
Photo: "rain barrel" by barbndc is licenced under CC BY 2.0.
Using a Rain Barrel
There are many different ways to mitigate large-scale flooding but the use of dams and reservoirs to store flood waters, particularly using the TransAlta reservoirs, has received a lot of attention[1]. While managing dams is a complex process, the principles around filling and spilling can be applied on a smaller scale. Operating a nano-sized reservoir is a great hands-on learning opportunity for kids at home (or curious adults).
Read more: Make A Difference - Actions For Individuals To Mitigate Flood and Drought | Storage
5 Water Films You Should Watch Instead Of Sharknado 2
We are taking a short break from our Actions to Mitigate against Flood and Drought series to talk about Sharknado. Yes, Sharknado…
If you happened to be on Twitter on Wednesday, you might have noticed that the second installment of the movie Sharknado was a trending topic. The campy made-for-TV movie about tornadoes that drop scores of sharks over major American cities has received a lot of media attention. While movies like Sharknado are a fun excuse to suspend reality, we also thought we'd highlight a few alternative acclaimed water-focused documentaries recommended by the water community.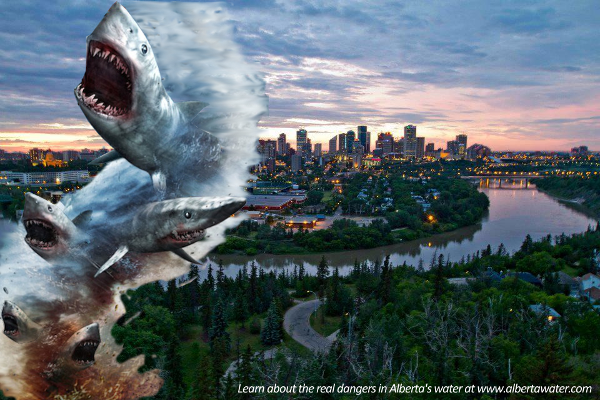 1. Water: A Sacred Relationship
On Wednesday night we asked the following question to our Twitter followers:
Question for our water community: what water movies would you recommend people watch instead of #Sharknado2?

— Alberta WaterPortal (@WaterPortal) July 31, 2014
We would recommend "The Sacred Relationship" - a film about First Nations in Alberta & their relationship with water http://t.co/H3aLHTz8iE

— Alberta WaterPortal (@WaterPortal) July 31, 2014
Our recommendation was the film Water: A Sacred Relationship
The documentary is a part of a broader research and educational project. It is "aimed at using the issue of water to reconcile the relationship between Indigenous people and the rest of Canada".
Why it is better: Thoughtful dialogue on important issues.
2. The Colorado River: Running Near Empty
"Chasing Water" 12min http://t.co/wUt99p8nCm for those curious about the #ColoradoRiver MT @WaterPortal What water movies would u recommend?

— Korice Moir (@WaterPuppetry) July 31, 2014
Twitter user @WaterPuppetry recommended the film The Colorado River: Running Near Empty, a documentary following photojournalist Peter McBride as he traces the natural course of the Colorado River and explores the human impact on "America's Nile River".
Why it is better: The drama is real.
3. Great Canadian Rivers
Well, this just made my night. MT @eFlowsOntario: @WaterPortal Some good #movies about Cdn #rivers here: https://t.co/9Zj6mPcoga @kpassiton

— Korice Moir (@WaterPuppetry) July 31, 2014
British Columbia's Knowledge Network offers the series Great Canadian Rivers profiling major Canadian Rivers. Choose from a number of videos on Canada's great river or watch the episode on the Athabasca River available online on August 11th.
Why it is better: It's local. Sharknado's only seem to hit American coasts.
4. Watermark
@WaterPortal how about Ed Burtynsky's film Watermark

— ERWP (@elbow_watershed) July 31, 2014
Our friends at the Elbow River Watershed Partnership suggested Watermark, a stunning film by renowned Canadian photographer Edward Burtynsky.
Why it is better: Unlike Sharknado, Watermark is an award winning film. Sharknado may have been nominated for a People's Choice award but didn't win despite the hype.
5. Cold Amazon
Lastly, check out the trailer for the documentary Cold Amazon which showcases Canada's massive MacKenzie River Basin. Those profiled in the documentary argue that there is still time to protect Canada's biggest river but the time to act is now.
Cold Amazon: The Mackenzie River Basin - Trailer from WDGF Channel on Vimeo.
Why it is better: You'll actually learn something.
Any films you would recommend? Are you planning to watch any of these Sharknado alternatives this weekend? Leave a comment below or send us a tweet!