The Bog
The Bog is where thoughts, opinions, discussion pieces, and action converge. Influential thinkers from the water community are invited to share their insights on current or controversial water topics. Please note that the views expressed herein are those of the authors, and do not necessarily reflect the position of the Alberta WaterPortal.
Invasive Mussels: Summer Stories Worth Revisiting
Although it is officially fall, we at the WaterPortal are still dwelling on summer. Beyond the heat and sunshine there were some ongoing water stories that took an interesting turn this summer. This week we'll be posting five stories we felt were worth revisiting.
Read more: Invasive Mussels: Summer Stories Worth Revisiting
Combining Public Art, Infrastructure and Water - A Precious Natural Resource by Corrina Baxter
Today's blog post first appeared in the Bow River Basin Council's publication 'Preserving Our Lifeline'. You can read past newsletters and editions of 'Preserving Our Lifeline' here.
Five hundred illuminated spheres float down the Bow River, twinkling brighter than the stars above. Festival-going families drink from funky fountains, their refreshing water drawn from fire hydrants. And teeming micro-organisms are studied in City water treatment labs, soon to be part of unique blown glass sculptures.
Read more: Combining Public Art, Infrastructure and Water - A Precious Natural Resource by Corrina Baxter
2014 Summer Wrap Up: Top 10 News Stories
As the summer winds down, we thought we would do a quick recap of our top news stories for those who (wisely) spent more time by the lake than by the computer. Using Bitly stats we organized the articles by the number of clicks and included the articles published between June 1st and August 29th that received the most clicks from our readers.

1. "'National disgrace': Alberta First Nations sue federal government over drinking water" by Jessica Barrett. (2014, June 19). Calgary Herald.
2. "The great wall of Elbow Park: How one homeowner plans to keep the next flood at bay" by Jason Markusoff. (2014, June 13). Calgary Herald.
3. "First Nations issues: What will make Canadians care?" by Chantelle Bellrichard. (2014, June 27). CBC News.
4. "Calgary attaching 'funky' fountains to fire hydrants for the summer" by Robson Fletcher. (2014, June 2). Metro Calgary.
5. "Expert sees growing trend of torrential downpours on prairies" by Matt McClure. (2014, June 30). Calgary Herald.
6. "Residents fighting uphill battle to save Muriel Lake" by Andrew Mendler. (2014, June 10). Bonnyville Nouvelle.
7. "Revolutionary waste water treatment developed in Edmonton" by Vinesh Pratap. (2014, July 4). Global News.
8. "Wildrose water allocation strategy raises fears" by James Wood. (2014, June 6). Calgary Herald.
9. "Province announces details of development in Alberta's South Saskatchewan region" by David Boushy and Melissa Ramsay. (2014, July 23). Global News.
10. "Montana's deadly flood a lesson Calgary chose to ignore" by Matt McClure. (2014, June 16). Calgary Herald.
Beavers— An Ally or an Inconvenient Species? by Lorne Fitch
While beavers have sometimes been considered a nuisance, recent studies suggest beavers can play a role in flood prevention and can help even protect waterways. Today's blog post was written by Lorne Fitch, Provincial Riparian Specialist with Cows and Fish: Alberta Riparian Habitat Management Society. If you would like to learn more about beavers and management of riparian areas visit the Cows & Fish website.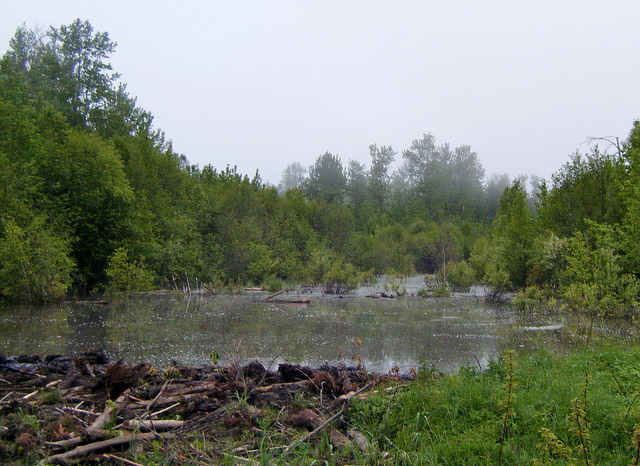 Photo: "elk island june 17 2014" by wapiti8 is licenced under CC BY 2.0.
The beaver is quite a package: it swims like a fish, cuts like a chain saw, moves materials like a front end loader, is the first water engineer and the first logger, and transforms landscapes at a scale that rivals humans. Some might consider them an inconvenient species.
As our national symbol the beaver is equally loved, hated and universally misunderstood. They can come with horns or halos. When they flood roads and property, cut favorite trees or inconvenience us in other ways they can seem the evil incarnate. To the myriad of plant, insect, fish and wildlife species beavers create habitat for and, to those that appreciate biodiversity, beavers are divinely inspired. In that balance beavers are seriously underrated as a species that can help us weather the storm of climate change.
The essence of climate change is greater variability in our weather. For many landscapes the trend is towards warmer and drier conditions. It may also mean more violent storms that dump massive amounts of rain in a short time period. It's a conundrum of generally less precipitation overall, but delivery faster than the landscape can absorb. In a perverse way it means increased drought and flood conditions, often within the same year.
Read more: Beavers— An Ally or an Inconvenient Species? by Lorne Fitch