The Bog
The Bog is where thoughts, opinions, discussion pieces, and action converge. Influential thinkers from the water community are invited to share their insights on current or controversial water topics. Please note that the views expressed herein are those of the authors, and do not necessarily reflect the position of the Alberta WaterPortal.
Request for Feedback: Glenmore Reservoir Diversion (Calgary Tunnel) Benefit Cost Analysis
The following is a summary of the report "Benefit/Cost Analysis of Flood Mitigation Projects for the City of Calgary: Glenmore Reservoir Diversion". Please read the entire report for a full understanding of the Benefit/Cost Analysis.
The Glenmore Reservoir Diversion, also known as the Calgary Tunnel, will consist of
an inlet structure,
tunnel, and
outlet structure.
The cost benefit analysis assumes the structure would align with Heritage Drive in Calgary and would operate whenever a 1:10 year event or greater would occur.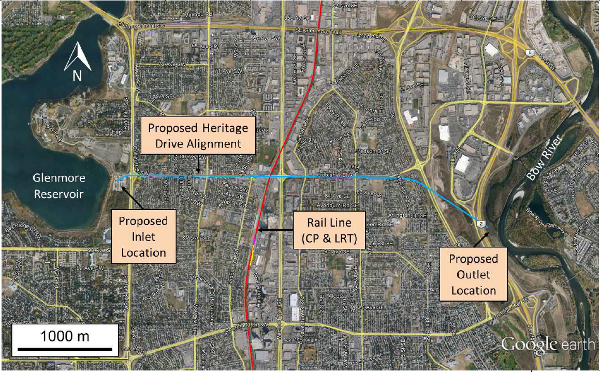 The Glenmore Reservoir proposed project along the Heritage Drive alignment as drawn by Hatch Mott MacDonald.
Read more: Request for Feedback: Glenmore Reservoir Diversion (Calgary Tunnel) Benefit Cost Analysis