The Bog
The Bog is where thoughts, opinions, discussion pieces, and action converge. Influential thinkers from the water community are invited to share their insights on current or controversial water topics. Please note that the views expressed herein are those of the authors, and do not necessarily reflect the position of the Alberta WaterPortal.
Promoting source water protection against wildfires in Alberta
By François-Nicolas Robinne of Global Water Futures
North America is perpetually burning, or so it seems! California is experiencing year-long fire seasons, the last two years have been the worst fire seasons on record in British Columbia, and the town of High Level in northern Alberta was evacuated late-May to the out-of-control Chuckegg Creek wildfire. With the hot and dry conditions we have already experienced this spring, it may be a harbinger of another rough summer.
In a context of the climate crisis in which wildfires in Canada will likely happen more often, get bigger and be more severe, learning to live with wildfires also means learning to live with their consequences. This includes fatalities, billions of dollars' worth of damage, as well as possible impairment of our water supplies, which is growing topic of concern for many communities. In particular, water contaminated by excess nutrients, sediments, and heavy metals transported from burned areas can degrade water treatability and pose serious challenges to downstream drinking water utilities [1,2].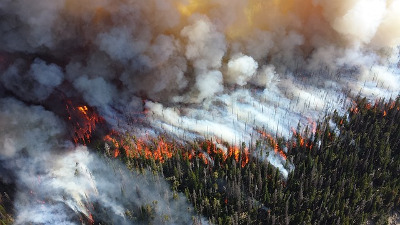 After a severe wildfire, forested watersheds often display altered hydrologic functioning leading to higher runoff and erosion. For example, the speed at which water seeps into the ground versus flowing on the surface into creeks may change. The result is water quality impairments [3] which are of particular concern when those watersheds are sources of drinking-water for downstream communities. This is because drinking-water treatment utilities might not be fully prepared to deal with sudden post-fire water quality changes. Assessing the exposure of these utilities to wildfire-caused alteration of their source water is therefore a first logical step towards mitigating the effects of wildfire, as is the creation of a source water protection strategy.
Read more: Promoting source water protection against wildfires in Alberta
Why we plan around watersheds
by Jeff Wiehler from the Land Use Planning Hub
A land use plan is a blueprint for the future. It sets out goals for a specific region and then identify what activities, uses or development best fit in the goals. There are two key parts of land use planning:
What area or region will be covered by the plan
The goals and uses applicable to that region
The challenges of land use planning typically fall to the second aspect: what set of regulations best reflect the environmental, social and economic goals of a region? How can competing uses or values be considered? These questions are the essence of the difficulty of land use planning, so they tend to be the priority when creating and following land use plans.
Municipal treatment of drinking water is the key to community health, but it can have hidden toxins as well
by Emily Walsh in collaboration with the Alberta WaterPortal
Clean drinking water is something many of us take for granted, while others go to great lengths to protect and restore our natural water resources. The Centers for Disease Control and Prevention (CDC) estimates that 780 million people around the world lack access to a treated water source.1 This does not take into account the treated water billions of people have access to that still contains harmful toxins. Below is a list of toxins sometimes found in tap water and how they get there.
Read more: Municipal treatment of drinking water is the key to community health, but it can have hidden...
The good, the bad, and the government: political response to the water crisis in Cape Town
This is a summary of the presentation delivered by Kim Sturgess at The Schulich School of Engineering at the University of Calgary on June 4th, 2018.
In early 2018 the world's interest and anxiety was captured by the announcement of Day Zero and the online clock counting down toward the projected time when the household taps of Cape Town would have to be turned off and water would be delivered by truck to city residents. Media around the world began talking about water scarcity and examining factors threatening the water supply of other cities. There was a general increase in awareness that municipal water supply could run out and what that could mean for a city. This global 'conversation' about water scarcity was a good thing, but there have also been negative consequences to the sensational announcement of #dayzero.
Read more: The good, the bad, and the government: political response to the water crisis in Cape Town
Corporate Water Stewardship: a crucial part of global water security
By Brie Nelson and Edwin Piñero
Commercial and Industrial Water Use and Water Related Risks
Companies that make up the industrial sector and commercial sectors play a significant role in water use. In Alberta, approximately 38% of water allocations are for commercial and industrial activities.1 This number excludes companies that receive their water from municipalities and from irrigation districts. Across Canada, industrial activities withdrew 30.2 billion m3 of water in 2013, approximately 85% of this was for thermal electric generation.2 Almost all of the water withdrawn for these industrial activities was returned to the environment, as seen below in Figure 1.
Read more: Corporate Water Stewardship: a crucial part of global water security