By Rain Saulnier of WaterSMART Solutions
Hydrogen is generating considerable attention as a potential key energy source and part of the transition to a low carbon economy. Hydrogen is the most abundant element on earth; however, it rarely exists on its own. Water resources are an essential consideration for a hydrogen economy because hydrogen is a component of water and is also a key part of many of the processes required to split hydrogen off of the other elements it is bonded with.
How much water is required to produce hydrogen? How much water and hydrogen would be required to replace 20% of the natural gas produced in Alberta? What is the cost of producing hydrogen? A report was recently published by WaterSMART Solutions Ltd. that responds to these questions. The report highlights the importance of water in the development of the hydrogen economy, and particularly begins to consider the tradeoffs that will likely be required with existing water consuming sectors in the province. The report reviews the water demands for three of the most likely methods for producing hydrogen on a large scale, and explores the case study of future hydrogen production in Alberta. A link to the report is at the bottom of this article.
What are the pathways for hydrogen production?
Hydrogen is an energy carrier, rather than a natural energy source. Producing hydrogen requires an initial source of energy to separate hydrogen from its natural occurring chemical compounds. Once separated, hydrogen can generate useable energy through combustion, or through use in a fuel cell.
Hydrogen can be produced through several pathways and processes. The two main processes are steam methane reforming (SMR), and electrolysis. Autothermal reforming (ATR) was also included in this study due to its lower water demand.
How much water is required for hydrogen production?
The quantity of water required for hydrogen production is dependent on the method used to produce hydrogen, as well as the way the production facility decides to manage the necessary water streams. For example, if water is used for cooling hot equipment there will be much higher water demand for producing hydrogen. The details for the estimated amount of water needed to produce hydrogen through each of the three main processes are in the WaterSMART report (linked below). At a high level, producing 1 kilogram of hydrogen requires between 5 litres to 38 litres of water to be produced, although only a portion of that (roughly between 5 litres to 11 litres) would be consumed as part of the process.
How much water and hydrogen would be required to replace 20% of the natural gas produced in Alberta?
Approximately 65% of Canada's total natural gas production is based in Alberta (297.3 million m3/day) [1]. In 2019, 46% of Alberta's natural gas production was consumed within Alberta [2]. If 20% of Alberta's natural gas consumption was replaced by hydrogen on an equivalent energy basis, approximately 8.62 kilotonnes of hydrogen per day would be required. For electrolysis, assuming a ratio of 15.5 litres of water per kg of hydrogen, 134,000 m3 of water would be required per day. For SMR, assuming a plant designed to use 13.2 litres of water per kg hydrogen produced, 114,000 m3 of water would be required per day. By comparison, about 740,000 m3 of water is consumed per day in Alberta in the oil and gas industry, and 66,750 m3 of water is consumed per day by the City of Calgary; this value assumes 85% of municipal water withdrawals are treated and returned to the river [3].
Figures 1 and 2 provide context for how much water would be consumed in hydrogen production under various scenarios and technologies. Figure 1 shows the total consumptive use of water in Alberta today, and Figure 2 shows the potential consumptive use for various hydrogen production technologies and under various scenarios for provincial penetration and export.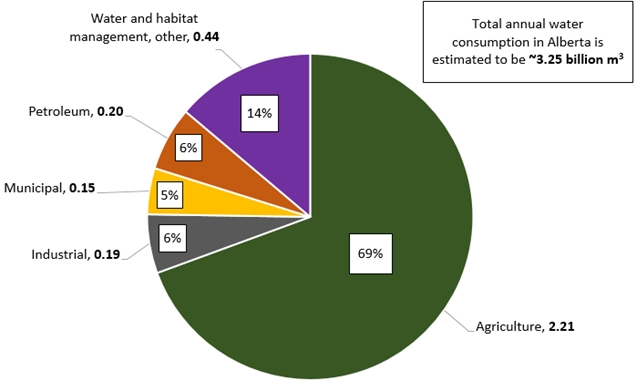 In short, the numbers are significant compared to the current industrial, municipal and petroleum consumptive uses in Alberta. It is important to understand how much these other consumptive uses will be reduced due to the conversion to a hydrogen based economy. This will be the subject of additional research and future reporting.
Conclusions and context for Alberta
Water governance in Alberta is based on the 1999 Water Act [5] and the Water for Life Strategy [6], adopted in 2003. The Water Act prescribes how water licences are to be issued and reported on, as well as the processes for licence transfers and allocations.
Agriculture is both a key economic driver and a key water user in Alberta, accounting for 67% of the freshwater consumed. That means that hydrogen production will be competing for water with agriculture, as well as other sources of energy production, resource development and industrial development.
In addition, water supply and demand varies regionally across Alberta. In certain parts of the province it has been determined that there is insufficient water supply for new water licences to be issued. Water is only available for the production of hydrogen in some parts of the province. For example, the North Saskatchewan River basin can support growth in hydrogen production, but this may be restricted in some reaches of the river, particularly downstream of Edmonton. The Athabasca, Beaver, Peace, Slave, and Hay River basins are all able to support significant growth unconstrained by the availability of water, except in specific tributaries (e.g. the Wapiti River in the Peace River basin).
Summary
Many experts believe that the development of a hydrogen economy will be a critical requirement to ensure Canada meets its goal of achieving net-zero emissions by 2050. However, there are still many logistical hurdles remaining to develop hydrogen infrastructure to the scale required to make its production economical, and to have a significant impact on the national reduction of emissions. One of the less obvious hurdles will be the water consumption required for hydrogen production. The analysis in the report by WaterSMART shows that water could be a limiting factor in the transition to a hydrogen future, depending on where the hydrogen is produced. The current energy industry, agriculture and agri-food industries, municipal uses, and healthy ecosystems should be included in the calculations of moving toward any economy that is linked closely to water resources. In the case of the hydrogen economy, the benefits in terms of greenhouse gas emissions and climate change impacts are also part of the equation.
Download a pdf version of the WaterSMART Solutions white paper here pdf Water for the Hydrogen Economy-WaterSMART white paper 2020 (514 KB)
_ _ _ _ _ _
Rain Saulnier is a project Engineer in Training at WaterSMART Solutions. He has a passion for water and the environment, and is committed to helping build a sustainable future for Alberta and the global community.
References
1. C. E. Regulator, "Provincial and Territorial Energy Profiles – Alberta," 24 June 2020. [Online]. Available: https://www.cer-rec.gc.ca/nrg/ntgrtd/mrkt/nrgsstmprfls/ab-eng.html?=undefined&wbdisable=true.
2. A. E. R. (AER), "Alberta Energy Annual Report 2019-2020," AER, 2020.
3. C. o. Calgary, "City of Calgary - Water Efficiency," 2020. [Online]. Available: https://www.calgary.ca/uep/water/water-conservation/water-efficiency-strategy.html#:~:text=Calgary's%20Water%20Use,-Calgarians%20have%20been&text=In%202019%2C%20our%20total%20per,our%20target%20of%20350%20LPCD.
4. A. E. D. A. (AEDA), "Sustainable Water Management and Economic Development in Alberta," 2007.
5. P. o. Alberta, "Water Act," 1999. [Online]. Available: https://www.qp.alberta.ca/documents/Acts/w03.pdf.
6. G. o. Alberta, "Water for life - Alberta's strategy for sustainability," 2003. [Online]. Available: https://open.alberta.ca/dataset/77189444-7456-47f7-944c-085272b1a79c/resource/17c41dc3-1692-4cf9-b931-2892c57a62b1/download/2003-water-life-albertas-strategy-sustainability-november-2003.pdf