PUBLISHED: 06 June 2018
Words of Wisdom from Alberta's Aqua Champion, Kim Sturgess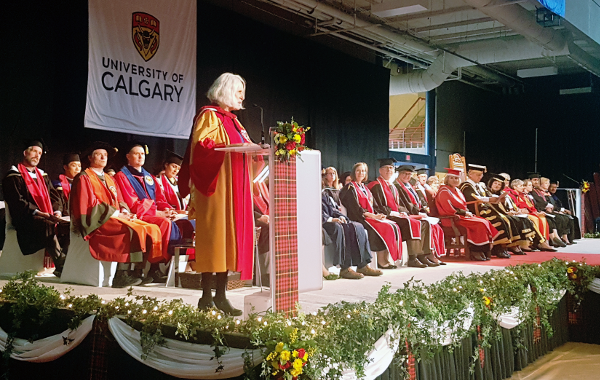 We are still buzzing with inspiration after Kim Sturgess's convocation speech yesterday after receiving an Honorary Degree of Law from the University of Calgary. Kim provided the engineering graduates with a few words of wisdom as they start on their career paths, but professionals of all experience levels can benefit from her lessons.

1. Live where your heart is happy – For Kim, this is Alberta. From her first summer in mountains as a young summer student, she knew she was home. Find where your heart is happy and make this your home.

2. Follow your passion – Even when your ideas are met with discouragement or confusion, as many great ideas often are, find your supports and follow what you believe in.

3. Honor your profession – An engineer holds a great deal of responsibility and accountability. Be sure to follow the code of ethics and take all responsibilities seriously.

4. STEM starts at home – In the words of Kim, "when that little one comes home and says "I want to be an engineer", say "fantastic, what can I do to make that come true for you". Encourage children to follow their passion in STEM from a young age, and do what you can to support those dreams.

In the words of Aritha Van Herk, "with infectious passion, [Kim] has made water her inspiration and spirit … this woman who resonates water's bright grace, its flow and murmur, and its wellspring importance." Congratulations Kim.