Welcome to the October edition of the Roundup. If you have content you'd like included in our next Roundup please contact us. Happy reading!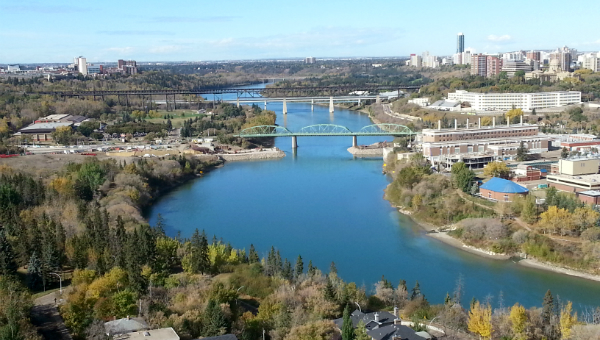 North Saskatchewan River winding through Edmonton
Opinions and Columns
Note: these pieces do not necessarily reflect the opinions of the Alberta WaterPortal
Gregory D Somerville: Investing in flood prevention for Albertans
Investing in flood prevention for Albertans. Click here to continue reading.
Naomi Lakritz: What's happening in Bowmont Park is a doggone shame
The City of Calgary's invitation for public feedback on options for Off Leash Area management in Bowmont Park has some park users bristling, with'river bank/riparian erosion due to flooding and foot/dog traffic' outlined as one reason the park's current management practices are being reviewed. Click to continue reading.
Local Waves
The Alberta Water Council's Water for Life Implementation Review Committee is conducting a sector survey to help assess the status, progress, and effectiveness of Alberta's Water for Life strategy. Note the survey closes on 16 November. Click here to take the survey.
Last month the Institute for Catastrophic Disaster Reduction hosted a webinar, presented by Kim Sturgess, CEO of Alberta WaterSMART, titled 'Flood and drought: What's next for watershed management'. Click here to view the webinar recording.
A personal commitment to collaboratively improving water management in Alberta won Kim Sturgess the 2015 Outstanding Contribution To The Alberta Science And Technology Community Award. Click here to continue reading or view the YouTube video.
Reports and Research
The Economic Value of Irrigation in Alberta Report, commissioned by the Alberta Irrigation Projects Association and funded by the federal-provincial Growing Forward 2 program, is now available.
The November New Technology magazine includes a set of articles on waterless fracturing and different technologies to reduce water in fracturing (page 17 onwards).
To encourage a clearer understanding of potential solutions the Council of Canadian Academies assembled an expert panel to conduct an independent, evidence-based assessment to examine the technology and policy options for transitioning to a low-emission energy system in Canada. The report is now available online.
A summary of the Alberta Government budget is available on the Alberta WaterPortal, where you can also find an overview of October's flood mitigation announcements.
Other Stories
Millions of B.C. salmon mysteriously 'just disappear' in troubling year
Click here to continue reading
The trail of people touched by Keystone XL: how Obama decision affects thousands
Click here to continue reading
Test your water conservation skills
New drought atlas maps 2,000 years of climate in Europe
Click here to continue reading
Global warming could be more devastating for the economy than we thought
Click here to continue reading
Is Frank Gehry really the right person to revitalise the Los Angeles river?
When arguably one of the world's ugliest rivers is seeking a facelift, who's the right person to master-plan the change? Click here to continue reading