Today's blog post first appeared in the Bow River Basin Council's publication ' Preserving Our Lifeline'. You can read past newsletters and editions of 'Preserving Our Lifeline' here.
What if you could participate in a North America-wide effort to improve weather forecasting, drought mapping, flood alerts, and our understanding of and capacity to respond to an ever-changing climate? Would you? Of course you would. Well, here's the opportunity.
What in the WaterWorld is CoCoRaHS?
I hate acronyms! So why would I be advocating for what is probably the world's worst acronym? Because it is also one of the world's most innovative and practical examples of useful Citizen Science. CoCoRaHS is a North America-wide, online network of people using identical rain and snow gauges, with hail monitoring in some regions, and extreme event reporting whenever it arises.
CoCoRaHS stands for Community Collaborative Rain, Hail and Snow measurement and reporting. It originated in Colorado after disastrous flooding in 1995 and the subsequent realization that these floods were recurring events, often with severe droughts in between them. Coloradans decided to do something to better understand precipitation patterns and to improve forecasting by dramatically increasing the number and locations of weather-reporting instruments. The concept was to have hundreds of citizen volunteers using accurate, identical high-quality rain/snow gauges report their findings online each morning across the entire state. It was so successful in Colorado that it soon expanded to many thousands of reporting stations right across the US. Later it was taken up in Canada, largely in Central and Eastern Canada with only a few stations in Western Canada, and until recently with only 4 stations in Alberta!
It has now become one of the goals of BRBC to remedy that tiny participation rate in Alberta.
CoCoRaHS is a non-profit organization on both sides of the border, powered by a volunteer network of weather observers and reporters of all ages and backgrounds, measuring, reporting, and mapping precipitation in their communities. The organizations receive some limited financial support from the US National Weather Service/NOAA and from many other organizations throughout the US. In Canada some financial support comes from Environment Canada, Weather Innovations Consulting LP, the Ontario Government, and others. The key point here is, relative to expensive few-and-far-between electronic weather stations, CoCoRaHS is incredibly inexpensive to operate because it is an online network of volunteers using a proven, accurate, high-tech but easy-to-use technology.
How does it work?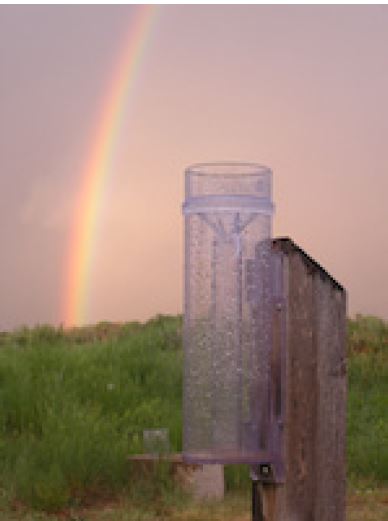 Photo: CoCoRaHS Website
As you can see from the pictures, the core of the system is an accurate rain/snow measurement gauge. Once set up properly, the gauge is monitored each day by the individual volunteer or school or other organization, and the reading is entered into the password-protected online data base. You can use your computer, smart phone, tablet or whatever device you have to enter your precipitation measurement, and voila! The central server does the computing, conversion to and from metric, GIS locations, and provides up-to-the-minute information, trend lines, regional information or other data proven to be useful to researchers, forecasters, agriculturists, gardeners, and those like myself who just like to monitor weather patterns.
The Canadian and US websites (provided at the end of this article) have a wonderful depth of useful and easy-to-understand information about how to set up your gauge, how easy it is to monitor and report when you are home and able to do so, and the vast network of CoCoRaHS participants… including a blog, network discussion groups and so forth. Many of the US states have their own blogs and newsletters for CoCoRaHS volunteers and others to share information and learn. There are substantially fewer web discussions on the Canadian site, but that's obviously due to the fact that in Canada we have around 100 participants nation-wide, compared to the many thousands in the United States.
Who is involved so far?
Well, the irrigation districts, ranchers, and gardeners are obviously interested in relatively accurate, regional, and inexpensive precipitation monitoring and reporting. Many individual members of the BRBC, member municipalities, the City of Calgary, AEMERA, the River Forecasting Group of AESRD, other WPACs and basically every single person or group we've met with have expressed great interest in participating and learning more about this opportunity for Citizen Science.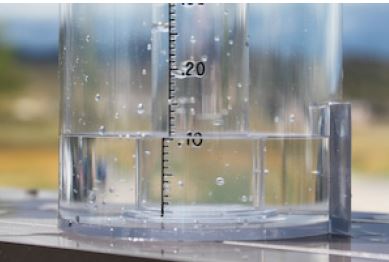 Photo: CoCoRaHS Website
We Want Volunteers!
Rural and community locations nearby Bragg Creek, Redwood Meadows, Nanton, High River, Black Diamond, Longview, Turner Valley, Okotoks, Banff, Kananaskis Country, Canmore, Cochrane, Stoney Reserve, in the foothills and rural residences all around the Bow Basin can provide useful data. Downstream of Calgary in the prairie areas of the Bow Basin there are hundreds of potential participants who could provide important information for themselves and their neighbours by recording and sharing their findings with these accurate and identical instruments. I've been unable to think of a single entity that wouldn't be a useful location: schools, park offices, information centers, band offices, irrigation district offices, farms, ranches, rural residences, small towns, back yards, anywhere that would provide enough open space to properly locate a CoCoRaHS instrument and have someone interested and reliable enough to do the reporting whenever they are present.
We are looking as a first priority for volunteers living in rural areas, nearby population centers, and open areas within and around the City of Calgary. Calgary water experts have said that gauges in addition to their existing 30+ would be useful to document and understand water management, as there are substantial differences in precipitation in specific locations throughout the City and surrounding areas.
So in order to plant the seeds of CoCoRaHS in Southern Alberta, the BRBC has purchased at a discounted price, 100 of the high quality rain and snow gauges for initial distribution to enthusiastic and reliable weather watchers within our basin. We hope to distribute our first 100 gauges in very short order. We are looking for people and organizations meeting three criteria: a relatively open area (somewhat away from trees and buildings), 2) enthusiasm for weather and water matters with reliability and commitment to report daily when you can, and 3) we would appreciate for you or your organization to be a member of the BRBC. No fee is asked to join the BRBC, only register and commit to monitoring and reporting with the CoCoRaHS gauge.
We would also welcome any corporate or other sponsors who are interested in supporting the next 100 or the next several hundred gauges after that.
No, we still can't do much about the weather. But we can do something to learn more about it, help those whose livelihoods depend on the weather, those who could be in harm's way from floods or drought (that is all of us), and those whose careers are devoted to understanding weather patterns, the ever-changing climate, and to providing all of us with better understanding and forecasting.
For more information, contact Mark Bennett to be a CoCoRaHS pioneer in Alberta.
Canadian CoCoRaHS website:
US CoCoRaHS website:
Mike Kelly is Chair of the Bow River Basin Council. Click here if you would like to learn more about the BRBC.