Alberta Lake Management Society was formed in 1991 and works to promote understanding and comprehensive management of lakes and reservoirs and their watersheds.
LakeWatch is one of the several programs offered by ALMS. LakeWatch is a volunteer-based water quality monitoring program available to Albertans who are interested in collecting information about their local lake or reservoir. If you are interested in the program, continue reading or visit the ALMS website to learn more.
Volunteers needed in the Fox Creek/Whitecourt Area
In 2015, the Alberta Lake Management Society (ALMS) is excited to bring LakeWatch, our citizen-science based water quality monitoring program, to northwestern Alberta – there's just one problem: we need volunteers! Funding through Environment Canada will allow ALMS to conduct volunteer-based monitoring and education activities in the Whitecourt/Fox Creek region of the province. While the relationship with volunteers, which LakeWatch relies on, is one of the program's greatest strengths (volunteers gain a basic education in limnology, learn how lake sampling is completed, take ownership of the data, and feel empowered to become stewards of the environment), it can also serve as the program's greatest crux if the volunteers don't exist.
Volunteering with the LakeWatch program is simple: all you require is a boat, some time, and an interest in science and the environment. ALMS staff meet with volunteers five times throughout the summer and work together to collect lake water quality data. Afterwards, the data is compiled into easy-to-understand reports which are made available on the ALMS website.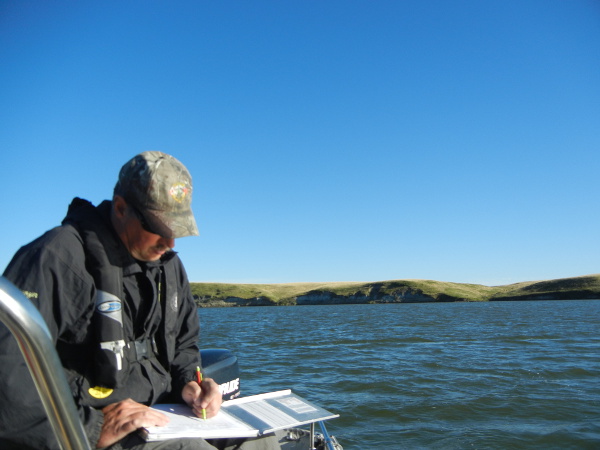 LakeWatch monitoring in action. Photo courtesy of ALMS
In 2014, the Whitecourt/Fox Creek area of the province saw blue-green algae advisories issued for Shiningbank Lake, Smoke Lake, and Iosegun Lake. Are such advisories normal for these lakes or have these lakes changed over time? What is driving these cyanobacteria blooms? What can watershed residents do to help? These are all questions which LakeWatch data can help to answer.
With this project, we hope to visit lakes in the Whitecourt/Fox Creek; we hope to collect valuable lake data including information on invasive species, nutrients, cyanobacteria, and more; we hope to conduct education and outreach activities at schools and community groups; and, most of all, we hope we will find volunteers and citizen scientists to help us with this important work.
If you are interested in volunteering with the LakeWatch program or you would like our education and outreach programs brought to the Fox Creek/Whitecourt area, please contact Brad at info[at]alms.ca or 780-415-9785. Volunteers are asked to contact ALMS as soon as possible or by May at the latest if they would like their lake monitored in 2015.