As the flood waters rose in 2013 I was tagged in a post from my friend Drew, who works at Google, asking for help finding someone at the City of Calgary who could provide permission to update the Google Crisis Map. Luckily, I was able to help make the needed contact as I continued to update the WaterPortal with the continuously changing information on the flood. One year later, I've asked Drew to recount his experience working in the Google Crisis Centre during the Southern Alberta flood of 2013.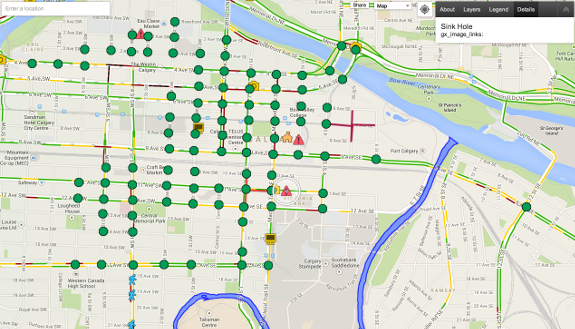 My name is Drew Cormier. I was born at Rockyview General Hospital and raised in the Deer River community of Calgary. My summers were filled with street hockey and biking through Fish Creek Park and the winters revolved around building the best snow forts with my friends. Despite moving out of Calgary in 2001, I have always considered it my hometown. More recently, I moved to California to begin working at Google in October of 2012.
In June of 2013, only 7 months after I had begun my new job and life, I started to see disturbing trickles of information pertaining to Calgary through social media. Twitter began to have more and more alerts pertaining to alerts and advisories. Facebook began to fill up with images and videos from friends of flooded streets and evacuations. News websites showed rising water levels at Calgary landmarks like the Saddledome and cars being stranded.
The final push I needed to begin helping was when I saw that the neighborhood I grew up in had been evacuated. The house I was raised in, my friends and their families that I grew up with, had all been evacuated because of the rising Bow River. At that point I knew I had to do something to help.
I approached my manager and asked to join the Google Crisis Response team temporarily. I had no idea how to join them, or what I would be able to do once I did. I didn't have a plan and yet, my manager allowed me to suspend my normal job responsibilities to provide assistance to my hometown. This by itself is a rarity; I have had managers in the past at other companies who would have shrugged this off and said something akin to, "that's not your job" or "that's not what you're being paid to do". My manager simply told me to do what I needed to do and I will always remember that. Another manager on my team provided an e-mail alias that would allow me to directly contact the Crisis team. I sent an e-mail at 10:56AM on Friday, June 21st and by 2:17PM I was pulled into an e-mail thread to have me looped into the team.
The Google Crisis Response team was amazing. Some were Canadian, but most weren't. Even amongst the Canadians on the team, I was one of the few Calgarians. It was a very fluid and dynamic team too with people like me who pop in for one crisis at a time but anchored by a team of full time employees. The people who work on the team full time are some of the most dedicated, kind, and hard working people I have ever met. These are the types of people who pull off to the side of a busy highway to fix a software bug so that people halfway around the world can get information they need on where to evacuate from a hurricane.
I quickly discovered where I could be the most useful is as a Calgarian. I knew the city and surrounding area, I knew the news outlets, and I had friends and connections at companies and government agencies in the city. This turned out to be key as the largest barrier we had to overcome in that early period was getting authorization from an information source to use their data, reports, tweets, etc to use on our own maps. If we saw a news report stating a road was closed, or a sinkhole had formed we couldn't update the map with that information until that source of information gave us permission to do so.
Within 24 hours we had all the authorization we needed to begin using all the data we could to build the crisis map: road closures, evacuation zones, electrical hazards, evacuation shelters, and more.
The days were long, but I loved it. I would wake up and begin to crawl over news sites, government sites, and Twitter accounts to find new information that occurred over the night to update our map with. I would keep a close eye on data sources during the day and watch press conferences from the Calgary Police Department and Mayor Nenshi. As soon as there was an update, I would push an update to the maps.
This level of high alert with constant news source monitoring continued into the next week. By June 25th things began to calm down a bit as the flood waters receded. Government workers had the situation contained and evacuation orders for some areas were lifted. I slowly shifted my time back from the Crisis Response Team to my "normal" job. Several members shifted their focus on an overlapping crisis around the world in Uttrakhand, India, and looked carefully at what lessons could be learned from our response in Calgary. As is normal at Google, once a project is complete you take a look back analyze how things went .
Looking back, I realize how extraordinary Google, the Crisis Response Team, and Google's dedication to helping others truly is. Google doesn't have an office in Calgary yet there was a dedicated effort to help the city and province. My manager gave me the green light to assist without questioning my role or reason to join. The Crisis Response Team welcomed me in and relied on me to help lead the efforts on gathering information.
Even though I moved out of Calgary 13 years ago I still consider myself a son of Calgary and am glad I work at a company that allows me to serve my hometown while being 1,326 miles away.
Photo from Drew Cormier.